Campaigning against forced marriage
The Mufti of Mirpur, Hafiz Nazir Ahmed, and members of the Khari Sharif Welfare Society (KSWS) are visiting the UK this week to campaign against forced marriage amongst the Pakistani Diaspora.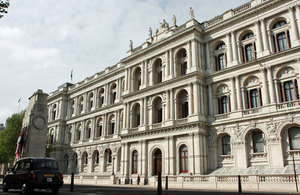 Speaking ahead of the visit, Foreign Office Minister Alistair Burt said:
"I welcome the visit of the Mufti of Mirpur and the Khari Sharif Welfare Society (KSWS) to the UK this week. Forced Marriage is an appalling, brutal and unacceptable practice. It is recognised in the UK and around the world as a serious abuse of human rights. The visit of the Mufti and his colleagues is an important opportunity for that message to be reiterated in communities around the UK. The UK enjoys excellent working relationships with the Pakistani authorities and civil society organisations on this issue. We look forward to continuing this work in future"
Mr Ahmed said:
"There is no concept of forced marriage in Islam. Some people think that marriages without the consent of a man or a woman are in accordance with Islam. This way of thinking is against the teachings of Islam, rather it is a tradition and cultural practice in the Asian sub continent.
"In some parts of Asia and in many developing countries forced marriages are common. The Holy Prophet's first marriage took place at the request of his suitor, a woman called Khadijat-ul Kubra. He married his daughter, Fatima, to Hazrat Ali having first asked his daughter's consent.
"I, Hafiz Nazir Ahmed Mufti of Mirpur, along with the other members of my delegation, have come to the UK to convey this Islamic concept. I hope my visit to the UK will be useful for improving relations between Pakistan and the UK, and discouraging forced marriages. I will continue to co-operate on this issue with the British Government".
The Forced Marriage Unit
The British Government has a forced marriage unit to provide advice and support related to a possible forced marriage. Trained professionals offer confidential advice and assistance to:
those who have been forced into marriage
those at risk of being forced into marriage
people worried about friends or relatives
professionals working with actual or potential victims of forced marriage
Find out more about the forced marriage unit
Published 30 January 2012