News story
Cameroon Chevening Alumni: Promoting Women's Rights
Chevening Alumni celebrate 30th Anniversary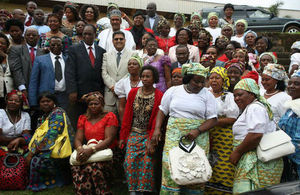 The Cameroon Chevening Alumni – CAMCHEV has just celebrated 30 years of the establishment of Chevening Scholarships. Alumni from across the country, met in the North West region of Cameroon – Bamenda where they sensitized and empowered women, civil society organizations on their rights and also to fight all forms of gender based violence.
According to the Cameroon alumni, the anniversary would be best remembered for the impact it would create in the Cameroonian society in the area of human rights protection where aspects like female genital mutilations, early and forceful marriages are common place, the rights to inheritance for widows is very difficult as well as access to land by women, child trafficking, particularly trafficking in girl child labour is also very rampant in the North West region.
Hence, the theme "Promoting Women's Rights" fits with the concerns of the Foreign and Commonwealth Office on human rights and most especially the rights of women where most aspects could likely be identified in the North West , South West and Northern parts of Cameroon.
Speaking during the workshop that held at the Bamenda Cathedral Hall in Big Mankon, the President of National Commission on Human Rights and Freedoms – Dr. Chemuta Divine Banda mentioned that Cameroon has seen some improvements on women's rights; however, much is still to be done. He called on Cameroonians to respect women and other vulnerable groups such as widows, children, and the aging. Meanwhile guest speaker and Chevening Alumnus – Barrister Olivia Mah whose presentation focused on fighting gender based violence called on women to shout when their rights are violated by alerting human rights clinics.
Congratulating the Cameroon Alumni on the theme of the anniversary, The British High Commissioner to Cameroon, H.E Bharat Joshi expressed his wish to see more Cameroonian women study in the UK, come back to Cameroon, work for the country's development and contest for top positions.
Operating since 1983, the Chevening Scholarship programme has sent over one hundred Cameroonians to be trained in the UK in various fields.
Published 30 July 2013