Cameron and Clegg launch the Big Society
Prime Minister David Cameron and Deputy Prime Minister Nick Clegg announce their plans for a new era of people power.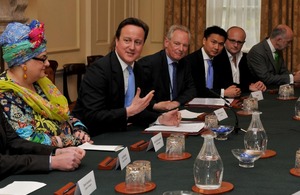 Their plans will empower communities, roll back big government, bureaucracy and Whitehall power. The Prime Minister promised that the idea of the Big Society would be marching through the corridors of power, starting a deep and serious reform agenda to take power away from politicians and give it to people.
Speaking on the Daily Politics Show DCLG Minister of State Greg Clark said:
There is a very exciting new approach here. For too long now, government has been something done to people. There is the chance of re-thinking politics to get people in the heart of government, to help them to do things in their own community. I think it's important that government is run by people rather than imposed on people.
A greater say for communities
The policies announced today include;
giving communities a greater say over their local planning system and saving local services, such as post offices and pubs
piloting a new National Citizen Service which will give 16 year olds the chance to develop the skills needed to be active and responsible citizens, mix with people from different backgrounds, and start getting involved in their communities
extending powers for local government by giving a general power of competence to local councils, enabling them to act as they see fit in the best interests of their communities, as well as conducting a comprehensive review of local government finance in order to help remove restrictions that limit the work of local councils
supporting mutuals, co-operatives, charities and social enterprises, giving them greater involvement in the running of public services; funds from dormant bank accounts will be used to establish a Big Society Bank, providing new funds for neighbourhood groups, charities, social enterprises and other non-governmental bodies.
Please see the Cabinet Office press notice for more information.
Published 18 May 2010