World news story
Policymakers and experts discuss action to end human trafficking and forced labour in Ethiopia
British Embassy convenes experts to discuss joint working to counter modern forms of slavery.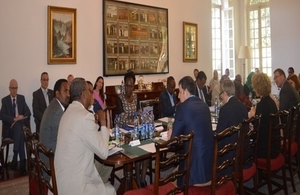 An important emerging area of international co-operation in the Horn of Africa was discussed on Thursday, as British Ambassador to Ethiopia Susanna Moorehead convened a roundtable of policymakers and experts to discuss how we can work together in responding to the tragedy of modern day slavery.
The event follows on from an event held at the United Nations General Assembly in September, when British Prime Minister Theresa May and Ethiopian Prime Minister Hailemariam Desalegn were among dozens of world leaders to attend an event that agreed a new "Call to Action" to eradicate forced labour, human trafficking and modern slavery by 2030.
This week's roundtable discussed how countries can work together to make this powerful aim a reality, including through sharing of best practice between countries and joint collaboration to tackle the international human trafficking industry.
Chief Constable Ian Hopkins, the Head of the UK's Greater Manchester Police Force, shared his experiences from more than two decades on the front line, and a range of government departments, charities and international agencies highlighted what more can be done to help support victims and to protect vulnerable individuals and communities from falling in to the hands of trafficking groups.
Both the UK Government and the Greater Manchester Police Force already support British charity Retrak's work in Ethiopia. Retrak's day centres and night shelters provide a safe space with counselling, education and re integration services for street children and girls trapped in exploitative domestic work in Addis Ababa and the surrounding area.
Speaking after the event, Ambassador Moorehead said:
I'm delighted to host today's event, the first in what I hope will be a series as we work together to tackle the horrors of forced labour, human trafficking and modern slavery. Given the very clear commitment of our respective Prime Ministers to ending this horrific trade in human beings and our close bilateral relationship, the UK and Ethiopia are especially well placed to co-operate on these critical issues that affect thousands of people across the Horn of Africa and beyond.
Further information
The 'Call to Action' document agreed at the UN in September can be found here.
Retrak is a charity headquartered in Manchester, UK, whose work and research provides a beginning-to-end approach for street children and the wider-community that improves their lives. Their focus is on supporting children as they reintegrate back into their families and communities - back to being children again.
For media queries
Saba Ermyas
+251924440432
Published 16 November 2017