World news story
Call for Proposals: Community Development in Macedonia
British Embassy Skopje opens call for proposals for civil society organisations in area of municipality and community development.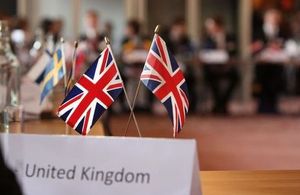 Civil society organisations with at least 3 years relevant experience of working in the Macedonian social context are invited to bid for management of a community development action programme.
The implementing organisation should have a portfolio in coordination and networking, being able to act as an umbrella organisation for a pool of local experts and companies in the related fields (as identified in initiation phase).
Understanding community forum methodology and approach and previous experience in implementation of such would be an asset. Click here for the full Terms of Reference for the Community Actions Programme (MS Word Document, 28.6KB) .
Deadline for submitting bids is 8th July 2015.
Frequently asked question:
Q: Regarding your call for proposals for civil society organisations in the area of municipality and community development we would kindly ask for your clarification regarding the Terms of reference (ToR). In the Background section you have provided the following explanation: This initiative complements an earlier programme funded by the Swiss Government for the past 9 years which included 6 communities in the Northeast region. This project will cover communities that were not covered by this or any other programme. Does this mean that the remaining three municipalities (with their communities): Kumanovo, Staro Nagoricane and Rankovce are eligible for this Community Actions Programme?
A: Community Action Programme Methodology doesn't have to be at the municipality level, it can be at the level of smaller communities.
Q: Who will be responsible for the procurement procedure for selecting contractor-s for the chosen community projects? If it should be done in accordance to the Macedonian law for public procurements (procedure which is lengthy, very demanding in providing papers according the law, before and through the implementation phase, and therefore most unfavourable for this type of projects with such limited deadlines)? Or it can be done in accordance to Donors recommendations, with shortened procedure, based to Article 9 from the Law for public procurements?
A: Procurement is done according to FCO procedures as stipulated in the Contracting documentation.
Q: Should funds for audit be planned within the proposed budget, or the audit is organised, conducted and financed within discrete donor procedures?
A:Audit is organised within FCO rules and procedures.
Q: If audit is planned, it should be after the specified action deadlines or should be incorporated within the action timeframe/deadlines?
A: Audit will be performed within project timeframe.
British Embassy Programme Assistance
Connect with us on Facebook or follow us @ukinmacedonia
Connect with the British Ambassador on Facebook or @BritAmbCGarrett
Read our blog UK in Macedonia
Published 26 June 2015
Last updated 7 July 2015
+ show all updates
Updated frequently asked questions.
First published.