World news story
Call for Project Proposals
This was published under the 2010 to 2015 Conservative and Liberal Democrat coalition government
The British Embassy Phnom Penh is pleased to announce Call for Project Proposals for the fiscal year 2014-15 under our Bilateral Programme Fund.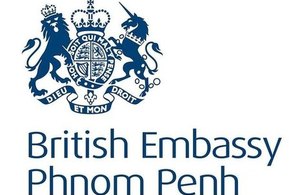 Our areas of interest are:
Human rights: Areas pertaining to land rights, freedoms of expression, judicial independence, corporate social responsibility, and working with national and regional human rights institutions.
Good governance and democracy, including electoral reform and elections, access to information, participation, transparency and accountability.
Climate Change, especially promoting low carbon, green economy and natural resource management.
We are looking for projects that can show impact and deliver change.
Budget
Project budgets should be for a single year for activities undertaken over the period June 2014 to March 2015. We are unable to fund multiple-year projects.
Non eligible projects for funding
Projects focussed on service delivery or projects that support military, religious affairs, construction activities, capital costs or mainly staff salaries are ineligible.
How to apply
Interested implementers are invited to first submit their Project Concept Form to our embassy by 07 May 2014.
Project Concept Form can be downloaded here: Project Concept Form (MS Word Document, 56.5KB) Proposal Form - £10k to £80k (MS Word Document, 123KB) Proposal Form - under £10k (MS Word Document, 79.5KB) Proposal Form - over £80k (MS Word Document, 144KB)
Alternatively, the Project Concept Form can also be obtained by writing to our Project Coordinator at sovannraksmey.chap@fco.gov.uk
Selection of the correct project proposal forms
Once the Concepts have been selected, prospective implementers will need to fill out one of the three available Project Proposal Forms depending on the amount of funding the project is seeking. Please ensure that the correct Project Proposal Form is filled out.
NOTE: At this CONCEPT stage, please submit only the Concept Form.
Deadline for submission of the Concept Form
Please submit your Project Concept Form to our Project Coordinator Ms Sovannraksmey Chap at: sovannraksmey.chap@fco.gov.uk by 07 May 2014.
Announcement of Concept results
In the middle of May 2014
For further information, please write to:
Ms. Sovannraksmey Chap
Project Coordinator
sovannraksmey.chap@fco.gov.uk
British Embassy
No. 27-29, Street 75
Sangkat Sras Chork,
Phnom Penh, Cambodia