Call for evidence for the review of the early years foundation stage
Dame Clare Tickell launches a call for evidence to inform the independent review of the early years foundation stage. Includes a link to the online consultation.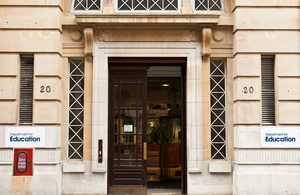 Dame Clare Tickell is today launching a call for evidence to inform her independent review of the Early Years Foundation Stage (EYFS). Announced on 6 July 2010, the EYFS review is looking at how best to protect young children's safety and welfare and support their development and learning.
Speaking about the call for evidence Dame Clare said:
I hope those with a passion for Early Years education take the opportunity to respond to this call for evidence. I want to hear from parents, professionals, carers and other Early Years experts about their experiences and views on the EYFS. I particularly want to hear from those who are delivering the EYFS on a regular basis and can advise on where we could make improvements. These views will help shape the future of the EYFS and will be invaluable in helping me to identify the best parts of the EYFS, as well as the parts that may have to change. I look forward to hearing from you.
The review will cover four main areas:
scope of regulation - whether there should be one single framework for all Early Years providers
learning and development - looking at the latest evidence about children's development and what is needed to give them the best start at school
assessment - whether young children's development should be formally assessed at a certain age, and what this should cover
welfare - the minimum standards to keep children safe and support their healthy development.
The call for evidence runs from 2 August to 30 September 2010 and can be accessed on the Department's consultations website.
Dame Clare will provide a final report on the EYFS review in spring 2011. The Government will then consult on any proposed changes before they take effect from September 2012.
DfE enquiries
Central newsdesk - for journalists 020 7783 8300
General enquiries - for members of the public 0370 000 2288
Published 2 August 2010