Press release
Cable – End of the line for dodgy company bosses
Reforms to improve the transparency around company ownership and the accountability of company directors have been announced today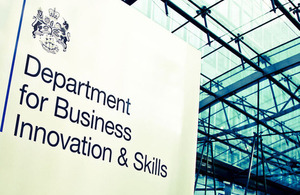 Business Secretary Vince Cable today announced his intention to legislate for reforms to improve the transparency around company ownership and the accountability of company directors. His proposals come as the deadline to the 'Trust and Transparency' discussion paper draws to a close today (16 September).
The proposals look to promote growth by improving confidence in the UK as an open and trusted place to invest and do business. Vince Cable proposes to legislate as soon as the parliamentary timetable allows.
In particular, the measures seek to address concerns that too many rogue directors have got off in the past with minimal repercussions for their actions. The following changes in the law were proposed:
strengthening the rules to give investors and those who are owed money the confidence that rogue directors will be banned from running companies
helping those who are owed money get compensation where they have suffered loss from a director's criminal or reckless behaviour.
ensuring that directors banned from running companies abroad cannot come to the UK to run British companies
extending the investigation time granted for complex cases of director misconduct, to minimise any possible prosecutions being timed out
raising standards of corporate behaviour by introducing special corporate behaviour training for banned directors who want to run a company again in the UK
Business Secretary Vince Cable said:
We need to see fairness and as well as trust in our director disqualification regime. For too long, a small rotten core has got away with either a slap on the wrist, a ban from working in their own industry or at the most, a time-limited ban.

This neglects the fact that rogue directors' decisions affect the lives of the employees they are responsible for and the businesses they deal with. That is why I will beef up the laws to ban rogue directors from running British companies so dodgy directors face the strongest possible consequences for their irresponsible actions.

We will bring these changes in before the end of this Parliament so we can help restore some of the confidence that has been lost due to serious mistakes and failures by company bosses over the past few years.
Government recognises that taking risks is an important part of business, and the failure of a company does not indicate misconduct on the part of the directors. However, at the same time there is a lack of confidence in the regime for dealing with directors' misconduct through civil law (though where misconduct consists of criminal behaviour then criminal proceedings can be brought). The changes would not be retrospective for previous business failures.
The other part of the 'Trust and Transparency' discussion paper looks to inject greater transparency around who really owns and controls companies in the UK. This sets out how the UK will implement its G8 commitment to introduce a central registry of companies' beneficial owners. It also proposes the abolition of bearer shares and corporate directors and measures to tackle misuse of nominee directors. These reforms would help to tackle tax evasion, money laundering and the financing of terrorism, and improve the investment climate in the UK.
Notes to Editors
1.The numbers of company director disqualifications following proceedings brought by the Insolvency Service were 1,031 in 2012/13, 1,151 in 2011/12, 1,437 in 2010/11 and 1,388 in 2009/10. Directors can also be subject to criminal proceedings; the criminal courts impose disqualification orders following conviction (where defendants have been convicted of an offence connected to the promotion, formation, management or liquidation of a company); the number of such orders made following prosecutions brought by BIS were 50 in 2012/13, 49 in 2011/12, 59 in 2010/11 and 54 in 2009/10. BIS prosecutes individuals (either, undischarged bankrupts or those subject to disqualification orders) who unlawfully act as directors, or are otherwise concerned in the promotion, formation or management of a company. The number of such convictions following BIS prosecutions was 49 in 2012/13, 32 in 2011/12, 38 in 2010/11 and 37 in 2009/10.
2.Definition of all the terms in the above:
Beneficial owner: any individual with an interest in more than 25 per cent of the company's shares or voting rights; or who otherwise exercises control over the way the company is run. Bearer shares: shares issued by a company which belong to whoever owns the physical share warrant. The owner's identity need not be entered into the company's register of members.
"Nominee" directors: directors appointed and registered at Companies House on behalf of someone else. Serial nominees might rent their names to several hundred companies in return for payment and play no part in the management of the company. Corporate directors: where a company is appointed and registered as a director of another company. This can be used to create very complex corporate structures crossing multiple jurisdictions. There are around 13,000 corporate directors registered at Companies House.
3.There are around 350 individuals who each hold more than 100 directorships in the UK, with cases of people holding up to 1,000.
4.The government's economic policy objective is to achieve 'strong, sustainable and balanced growth that is more evenly shared across the country and between industries'. It set 4 ambitions in the 'Plan for Growth', published at Budget 2011:
to create the most competitive tax system in the G20
to make the UK the best place in Europe to start, finance and grow a business
to encourage investment and exports as a route to a more balanced economy
to create a more educated workforce that is the most flexible in Europe.
Work is underway across government to achieve these ambitions, including progress on more than 250 measures as part of the Growth Review. Developing an Industrial Strategy gives new impetus to this work by providing businesses, investors and the public with more clarity about the long-term direction in which the government wants the economy to travel.
Published 16 September 2013