Press release
Cable announces Law Commission review of investors' fiduciary duties
The terms for the Law Commission's review of fiduciary legal duties of those who manage others' money, have been unveiled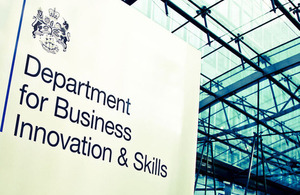 The terms for the Law Commission's review of fiduciary legal duties of those who manage others' money, have been unveiled by Business Secretary Vince Cable today.
The Law Commission review will provide greater clarity for institutional investors and advisers as to what they can and should take into account when investing in the best interests of others.
It will seek to address concerns that these duties are too often interpreted as a requirement to maximise short-term returns, rather than to take into account relevant long-term factors. The Law Commission will publish a consultation by autumn 2013, followed by a report with recommendations in 2014.
Today's announcement is a result of the 2012 Kay Review of equity markets. Kay found that investment in equity markets is driving excessive short-termism in British companies.
Business Secretary Vince Cable said:
I want to make sure that the investment chain in the UK works in the interests of everyday savers and British companies. A key part of that is rebuilding the trust between savers and those who invest on their behalf.
Our response to the Kay report set out minimum standards for all institutional investors. It's clear that they should be acting in the best interests of their clients – putting those interests above their own. Anyone acting for others in the investment chain needs to meet these standards. They should recognise that focusing simply on short-term returns is not enough to best serve their clients. We are taking these steps today to make sure the law supports this objective.
In responding to the Kay Report, the Government also asked the Financial Services Authority to consider to what extent current regulatory rules deliver the standards expected of institutional investors and advisers. We expect this to form part of the work of the new Financial Conduct Authority which takes over from the FSA on 1 April.
Notes to editors
1.The Terms of Reference can be found here http://lawcommission.justice.gov.uk/areas/fiduciary_duties.htm
2.The Government response to the Kay Review of Equity markets and long-term decision making can be found here https://www.gov.uk/government/policies/making-companies-more-accountable-to-shareholders-and-the-public
3.The government's economic policy objective is to achieve 'strong, sustainable and balanced growth that is more evenly shared across the country and between industries'. It set four ambitions in the 'Plan for Growth' (PDF 1.7MB), published at Budget 2011:
to create the most competitive tax system in the G20
to make the UK the best place in Europe to start, finance and grow a business
to encourage investment and exports as a route to a more balanced economy
to create a more educated workforce that is the most flexible in Europe.
Work is underway across government to achieve these ambitions, including progress on more than 250 measures as part of the Growth Review. Developing an Industrial Strategy gives new impetus to this work by providing businesses, investors and the public with more clarity about the long-term direction in which the government wants the economy to travel.
Published 26 March 2013