Cabinet Office stands up for prompt payment for SMEs
The latest 'Mystery Shopper' cases reveal three new cases where payment issues for SMEs have been successfully resolved.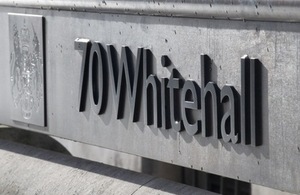 31 July 2012
CAB 075-12 
The latest "Mystery Shopper" cases reveal three new cases where payment issues for SMEs have been successfully resolved, Minister for the Cabinet Office, Francis Maude, announced today.
The cases have been published as part of the Cabinet Office's SME Mystery Shopper scheme, which allows the Cabinet Office to investigate procurement issues on behalf of SMEs and recommend improvements to the procurement process. The results of these investigations are then published online to promote best practice across the whole public sector.
The successes involving payment are:
An SME working on a contract for NHS North West London hospitals which raised concerns about payment made purely on a "contingency fee" basis. This meant payment would take longer than usual and would be made on an erratic basis. As a small business they would not have the resources to wait several months, so contacted Mystery Shopper. The Cabinet Office intervened and the NHS trust has since reviewed its approach and plans to introduce a new fee system where contingency fees play a smaller role.
Despite HMRC paying its prime contractor on time, a small business in the supply chain complained that this wasn't being passed down. Francis Maude wrote to the local MP warning that the case would be referred to Mystery Shopper. The prime contractor subsequently agreed to pay the SME more promptly.
A SME sub-contractor complained that money was not being passed on promptly by the prime contractor in a Ministry of Defence contract. The Mystery Shopper team worked with the Ministry of Defence to ensure that overdue payments were made and their processes were strengthened. There is now an improved process in place that will ensure faster payment to defence contractors of all sizes in the future.
Minister for the Cabinet Office, Francis Maude, said:
SMEs are crucial to the future of this country and to building a more diverse and rigorous economy. Timely access to cash is critical for these businesses. It is already a condition of every government contract that sub-contractors are paid within 30 days and we want to know where money is not passed down the supply chain, whatever the reason.

Mystery Shopper lets us find out about procurement problems and the cases published today show that our actions are having real results for businesses out there.
Minister for Defence Equipment Support and Technology, Peter Luff, said: 
SMEs are the lifeblood of the Defence industry. Their innovation, speed and flexibility are vital when responding to fast-moving threats in a volatile world.

We understand how important cash flow is for SMEs and that is why we committed in 2011 to reforming our procurement system to ensure even quicker invoicing and billing. Over ninety per cent of our customers are now paid within five working days and almost one hundred per cent of our customers are paid within eleven calendar days, meaning companies can be confident in doing business with MoD.

We are taking significant steps to ensure SMEs can continue to deliver the innovation and flexibility we need as set out in the National Security Through Technology White Paper.
Stephen Allott, Crown Representative for SMEs, said:
Mystery Shopper is excellent. It makes swift and direct improvements both in central government and in the wider public sector.
There are 67 cases published today covering a wide range of procurement issues, including burdensome Pre-Qualification Questionnaires (PQQs). In total, the service has now received 238 cases, of which 193 have been closed with 81 per cent of them resulting in a positive outcome - for example a current or planned procurement was changed, or the supplier gained a better understanding of the procurement process. The majority of cases received so far relate to wider public sector procurement.
Mystery Shopper uses the feedback from SMEs to promote the best practice across the whole public sector. SMEs are encourage to use the service wherever they feel that there is an issue that disadvantages smaller players or best practice is not being followed.
Notes to editors
1. SMEs can access the Mystery Shopper Service here. 
2. PQQs for central government tenders under £100,000 have already been abolished by all but two departments (remaining only in the most complex or sensitive areas) and contracts are published on the searchable Contracts Finder website.
Published 31 July 2012