News story
Cabinet Office Minister meets Glasgow local government and business leaders
Matt Hancock met local government and business leaders in Glasgow to discuss how the government can work with Scotland to grow the UK economy.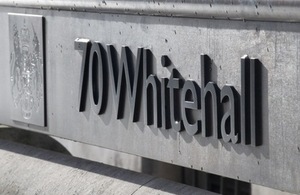 Matt Hancock met with Glasgow City Council to hear about how they are making their local economy more successful. The council is working with the private sector through the Glasgow and Clyde Valley City Deal.
Minister for Cabinet Office Matt Hancock said:
I was really impressed to hear about Glasgow and the Clyde Valley's fantastic work with the City Deal – it was excellent to see how the UK and Scottish governments, the Glasgow and Clyde Valley councils, and Glasgow's private sector are working together.

I'm pleased to see this joined up approach delivering such substantial economic benefits, and I'm keen to strengthen and empower Scottish civic leadership still further.
Councillor Archie Graham, Deputy Leader of Glasgow City Council, said:
I was pleased to meet the minister to discuss the great success of the Glasgow and Clyde Valley City Deal and to impress upon him the importance of national government, local government and businesses working together.
Matt Hancock also met with the Scottish Council for Development and Industry to understand how the government can support Scottish businesses. He highlighted some of the measures the government introduced across the UK to support smaller businesses bidding for central government contracts.
Matt Hancock said:
It's important Scottish businesses understand the great opportunities there are to work with the rest of the UK. For example, we have set an ambitious target that £1 in every £3 of UK government spending, or 33%, is to be with small businesses – those employing 250 employees or less – by 2020. This would mean an extra £3 billion per year going to small and medium-sized firms across the UK directly or through the supply chain.

This is an amazing opportunity for Scotland's diverse and innovative small businesses to get stuck in. From computers to uniforms – there are so many opportunities to work with us, and I want to see more Scottish small businesses providing value for money for the taxpayer and benefiting from our spend.
Gareth Williams, Director of Policy at Scottish Council for Development & Industry said:
Productivity, innovation and internationalisation are the key challenges for the Scottish economy – which action in public procurement can address. Too often Scottish businesses, in sectors such as life science and tech, find it difficult to sell innovative services and goods to the public sector in Scotland and the rest of the UK. We welcomed the opportunity to discuss with the minister how public sector buying can accelerate business growth, 'validate' innovations for overseas markets, and improve services for the public.
Published 6 November 2015