News story
Cabinet Office holds the first ever UK Job Hack
Matt Hancock, Minister for the Cabinet Office, hosts a Job Hack to help young people access training and employment opportunities.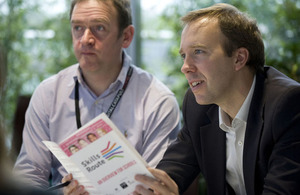 The event, announced on 9 October, brings together a diverse group of people, as part of the government's commitment to ending long-term youth unemployment. They will be challenged to come up with new ideas so that young people can access training and employment opportunities. Participants include developers and designers, careers advisors, government officials, and young people themselves.
Talented developers will use a wide range of open government data sets that are brought together in one place for the first time. Participants will look at everything from employment statistics, school performance tables and apprenticeship vacancies, to educational options and earning outcomes.
They will work with tech specialists, who will be invited to design applications and solutions using the datasets. The ideas they come up with will be presented for the Earn or Learn Taskforce, chaired by Matt Hancock, to consider.
Minister for the Cabinet Office, Matt Hancock said:
It's hugely exciting that the government is now embracing new ways of solving common problems. There's a huge opportunity to use new technology to make sure that every young person gets the best start in life. We want to seize that opportunity to help everyone – no matter what the circumstances of their birth – achieve their full potential.
Employment Minister, Priti Patel said:
I am really excited to hear the ideas that come out of the first ever Job Hack, which could help shape government policy and help more young people achieve their potential. Every day our Jobcentre Plus advisers support young people into work through specialist support and work experience, and the number of unemployed young people not in full time education is at a decade low.
The Job Hack follows last year's successful Flood Hack. During the flooding at the start of 2014, government brought together 200 software developers and computer programmers and gave them access to new data. The data included 15 minute readings from every UK river level sensor, and, within 2 days, they came up with a range of solutions to help. Solutions included a phone service that connects people with their energy supplier in a power cut and an app that alerts Twitter users to local volunteering opportunities.
Published 19 October 2015
Last updated 19 October 2015
+ show all updates
Added link to photos from the event.
First published.