Press release
Cabinet Committee for devolved powers: statement on first meeting
The new Cabinet Committee for devolved powers met for the first time on 25 September 2014.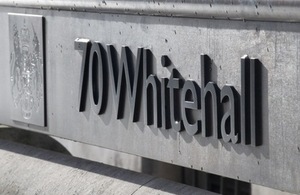 A Cabinet Office spokesperson said:
Leader of the House of Commons William Hague chaired the first meeting of the Cabinet Committee looking at devolved powers for England, Wales and Northern Ireland alongside new powers for Scotland. The Committee was announced by the Prime Minister following the Scotland Referendum on 19 September 2014.

Those present at today's meeting, which took place at Downing Street, included:

Chancellor George Osborne
Chief Secretary to the Treasury Danny Alexander
Michael Gove, Chief Whip
Baroness Stowell, Leader of the House of Lords
Secretary of State for Scotland Alistair Carmichael
Secretary of State for Work and Pensions Iain Duncan Smith
Minister of State for Schools and for the Cabinet Office David Laws
Secretary of State for Communities and Local Government Eric Pickles
Secretary of State for Wales Stephen Crabb

In line with the usual protocol we do not comment on discussions at Cabinet Committees.
Published 25 September 2014