Press release
CAA board members reappointed
Reappointed of David Gray and Michael Medlicott to the Civil Aviation Authority (CAA) board.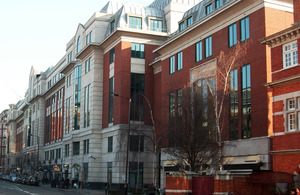 Transport Secretary Patrick McLoughlin has reappointed 2 members of the Civil Aviation Authority (CAA) board for second terms in office.
David Gray and Michael Medlicott joined the CAA as non-executive Members in November 2009 and February 2010 respectively. David Gray has particular expertise in economic regulation including a period at Ofgem, where he was responsible for gas and electricity price control reviews. Michael Medlicott has many years' experience in the transport and tourism sectors, including senior roles in the airline and airport sectors.
They will serve for second terms of 3 years each at their existing salaries of £22,000 per annum for a time commitment of 1 day per week, with additional remuneration for chairing committees and participation in appeals hearings.
Transport Secretary Patrick McLoughlin said:
A successful, safe and efficient aviation sector is vital to the UK's success on the global stage. These reappointments recognise the contributions that both individuals have made to ensuring the CAA remains an effective, reforming regulator in what has been a challenging period for the aviation sector. I wish them well as they continue in these important roles.
Notes to editors
The Civil Aviation Authority is responsible for the regulation of civil aviation in the United Kingdom and is the government's principal advisor on aviation matters. It has specific responsibility for aviation safety, consumer protection, airspace policy and the economic regulation of the industry. It is based mainly in London and Gatwick and has approximately 950 employees. The great majority of the CAA's funding comes from the charges it imposes on the industry, rather than the taxpayer.
Both members were originally appointed following an open competition regulated by the Office of the Commissioner for Public Appointments. The appointments were made on merit and political activity plays no part in the selection process. They have both declared that they have undertaken no relevant political activity during the past 5 years and that they hold no other current public appointments.
Press enquiries: 020 7944 3108
Out of hours: 020 7944 4292
Public enquiries: 0300 330 3000
Published 14 November 2012