Press release
Businesses risk losing billions unless they adapt: report reveals the future cost of dementia
Cost of dementia to businesses predicted to double, as the number of those living with the condition is set to rise over 1 million, by 2030.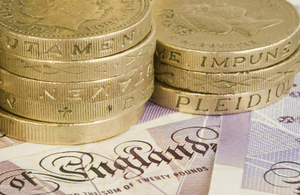 Today (8 August 2014) Public Health England (PHE) and Alzheimer's Society, who recently joined forces to launch the Dementia Friends campaign, release a new report on the future financial implications to the nation's businesses of dementia, and call on employers to adapt their working environment to support the increasing numbers affected by the condition.
The report, from the Centre for Economics and Business Research (Cebr) reveals that by 2030, dementia caring obligations will cost companies more than £3 billion.
As the population of England ages, the number of people with dementia is expected to rise to 1.09 million by 2030. The report predicts this will have a huge impact on businesses as the number of workers reducing hours, changing work patterns or even quitting, due to the demands of caring, is expected to grow.
Findings also show that the number of people who will have left employment to care for people with dementia is set to rise from 50,000 in 2014, to 83,100 in 2030. Yet, if companies increased their employment rate of dementia carers by just 2% over the years to 2030, for example by offering more flexible terms of employment, the retention of these skilled and experienced staff would deliver a saving of £415 million.
With a growing need for those over the age of 65 to stay in employment, by 2030, the cost of skills and experience lost from the workforce due to dementia will rise from £628 million to £1.16 billion.
Businesses have started to recognise this issue, with 1 in 12 companies (8%) having made attempts to accommodate the needs of a member of staff with dementia, and more than half (52.1%) considering taking such action in the future.
So far more than 20 major businesses have already signed up and are committed to supporting staff and customers with dementia. Over 100,000 employees from businesses including LloydsPharmacy and M&S are now Dementia Friends and a host of other companies such as Barclays, Lloyds Banking Group, Argos, BT and Bourne Leisure (Butlins, Haven and Warner Leisure Hotels) have also pledged for their staff to become Dementia Friends.
Duncan Selbie, Chief Executive of PHE, said:
It is encouraging to see that so many businesses are willing to make changes to accommodate those living with and caring for people with dementia. I'm delighted that more than 100,000 employees across the country have already become Dementia Friends. Making positive changes like this creates a more supportive environment generally and businesses have an important part to play in this.
The report also flags that businesses which are not sufficiently dementia friendly will lose out. The value of the 'dementia pound', which is the spending power of households affected by dementia, is set to double to £22.7 billion by 2030, from £11 billion in 2014, due to the rise in the number of people affected by the condition.
However, two-thirds (62%) of people with dementia would like banks and shops to have a greater understanding of the condition as currently a quarter (23%) report that they have given up shopping since being diagnosed.
One bank that is responding to these demands is Barclays, with almost 1 in 3 of its customer-facing colleagues to become Dementia Friends. Barclays' support for the initiative came as it noticed an increasing number of customers requesting lasting power of attorney due to dementia.
Matt Hammerstein, Managing Director for Barclays, said:
Barclays is committed to supporting vulnerable customers and we have the ambition to be the most accessible and inclusive bank for all customers and clients. Becoming a dementia friendly company is something that we feel is important to support our colleagues, customers and wider society. It is also crucial to us as a business to help us make all our customers' lives easier. We urge other businesses to sign up and help make all those affected by dementia continue to feel valued.
Health Secretary Jeremy Hunt said:
Dementia is 1 of the biggest challenges we face, and our ambition is to become 1 of the best countries in the world for dementia care. We can only do this with the help and support of every part of society. It's great that businesses, communities and individuals are showing such willingness to help and support those living with dementia – demonstrated by nearly 350,000 people who have already signed up to become Dementia Friends.
Jeremy Hughes, Chief Executive of Alzheimer's Society, said:
Thousands of people affected by dementia are forced to give up work and are denied a lifeline because of the failure of organisations to change the way they do business. From the shop floor to boardrooms, dementia affects every workplace; from people struggling with the early symptoms of memory loss at work, to those juggling a job whilst caring for a loved one. As the condition touches the lives of more people, businesses must gear up to support all people with dementia; staff and customers alike.

With dementia affecting millions of people, businesses who ignore the dementia pound do so at their own peril. Alzheimer's Society is encouraging businesses to commit to become dementia friendly. By increasing staff's knowledge and understanding of the condition through Alzheimer's Society's Dementia Friends, businesses can make small but positive changes to the way they operate.
Ends
Notes to editors
Spokespeople from Barclays, Lloyds Banking Group, LloydsPharmacy and Bourne Leisure available for further comment on request.
For more information, please contact campaign press office on dementia@freuds.com / jennie.hudson@freuds.com / 020 3003 6557 / 07771 911233 or Alzheimer's Society's Press Office on press@alzheimers.org.uk / 0207 423 3595
For more information on becoming a Dementia Friend, visit the Dementia Friends website.
PHE exists to protect and improve the nation's health and wellbeing, and reduce health inequalities. It does this through advocacy, partnerships, world-class science, knowledge and intelligence, and the delivery of specialist public health services. PHE is an operationally autonomous executive agency of the Department of Health www.gov.uk/phe Follow us on Twitter @PHE_uk
Alzheimer's Society is the UK's leading support and research charity for people with dementia, their families and carers. It provides information and support to people with any form of dementia and their carers through its publications, National Dementia Helpline, website, and more than 2,000 local services. It campaigns for better quality of life for people with dementia and greater understanding of dementia. It also funds an innovative programme of medical and social research into the cause, cure and prevention of dementia and the care people receive.
The Centre for Economics and Business Research (Cebr) is an independent consultancy which provides insightful analysis, award-winning forecasts and decisive business advice to major public and private sector organisations. www.cebr.com @Cebr_uk
This study was based upon data and sources including:

NHS Health and Social Care Information Centre's 2009 to 2010 Survey of Carers in Households
Office for National Statistics data on employment and salaries by sex and age
a YouGov survey of 1,010 private sector HR decision makers in small and medium enterprises and large firms. Fieldwork was undertaken from 28 March to 6 April 2014 through an online survey. A total of 88% of the respondents were from businesses in England.
Public Health England Press Office
Wellington House
133-155 Waterloo Road
London
SE1 8UG
Published 8 August 2014