Businesses consulted over most effective way of GHG reporting
A consultation published by Defra today sets out four options to achieve more widespread and consistent reporting.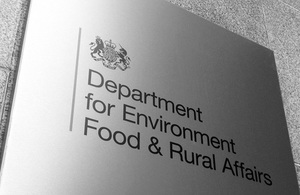 Businesses and investors are being asked for their views on the most effective way to improve the reporting of greenhouse gas (GHG) emissions by companies.
Defra research has shown that reporting emissions has helped companies achieve reductions and cost savings, increase interest at board level of environmental issues and improve their environmental image with clients and investors.
Launching the consultation, Environment Minister Lord Henley said:
"We want to see more businesses reporting their emissions, but a balance has to be struck to ensure we are not adding any unnecessary burdens.
"Our aim is to increase the number of companies which actively manage and report their emissions, so we want to hear from businesses how they think we will achieve more widespread and consistent reporting.
"More consistent reporting of emissions should help investors make better use of such data and help them incorporate climate change risk more effectively into their investment decisions."
"Many companies are already reporting their greenhouse gas emissions and seeing the benefits for themselves, because it's not only good for the environment but also good for business. Companies found that they saved money by focussing attention on energy efficiency, improved their green image with consumers and became a more attractive proposition to potential investors."
The Climate Change Act requires the government to look at introducing regulations requiring businesses to report their emissions. The consultation sets out three different options for mandatory reporting and one option for voluntary reporting. Defra is gathering views from businesses and other interested parties prior to taking that decision.
Defra will consider the responses to the consultation alongside other considerations such as the potential impact on business of each option, the government's drive to reduce regulation where possible, and the review of current evidence which was published in November last year.
The consultation closes on 5 July 2011 and a decision on the direction the Government will take is expected to be made in the autumn.
Notes
Find the consultation here: www.defra.gov.uk/consult/2011/05/11/ghg-emissions/
Section 85 of the Climate Change Act requires the Government to decide whether to make corporate green house gas reporting mandatory by April 2012.
The review of current evidence can be viewed at: http://archive.defra.gov.uk/environment/business/reporting/pdf/corporate-reporting101130.pdf
Published 11 May 2011