News story
Business Secretary flies the flag in UAE for UK business
Vince Cable recently made his first government trip to the UAE to boost trade with the region and encourage more inward investment into the UK.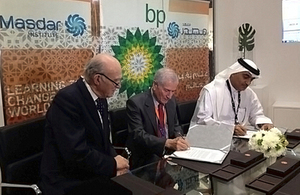 Business Secretary Vince Cable recently made his first trip as Business Secretary to the United Arab Emirates (UAE) to boost trade with the region and encourage more inward investment into the UK.
The 2-day trip, to Dubai and Abu Dhabi, formed part of efforts to meet UK Trade and Investment's (UKTI) target of increasing bilateral trade with the UAE in goods and services to £12 billion by 2015. Current trade and investment levels are on track to meet those targets, reaching £10 billion in 2012.
During his visit, he witnessed the signing of a multi-year Technology Innovation Collaboration Agreement in support of innovation and entrepreneurship in the UAE, between Masdar Institute of Science and Technology and BP. They will jointly contribute US$7 million over 6 years in Masdar Institute-based innovation and entrepreneurship programs. The 2 partners will combine BP's expertise and resources in developing innovation and entrepreneurship with Masdar Institute's existing programmes to enhance the region's technology commercialisation capabilities.
The agreement was signed by Mr AbdulKarim AlMazmi, BP General Manager and Chief Representative in the UAE and Dr. Fred Moavenzadeh, President of Masdar Institute. The ceremony was held during World Future Energy Summit 2014, a global event hosted annually in Abu Dhabi.
Vince Cable said:
This deal is an innovative partnership between the UK's leading energy company BP and the Masdar Institute of Science and Technology to invest in entrepreneurs with promising technologies.

I have been championing government and business in the UK to take a more long-term, strategic approach to investment. This agreement shows how a major energy company can play a positive role in supporting wider economic development for Abu Dhabi and beyond. It also builds on the mutual interest of the UK and the UAE to generate growth through exports by promoting overseas trade, innovation and sustainable technologies.
Also, during his trip, Vince Cable encouraged businesses in the UAE to invest in the UK by launching a new UKTI Gulf Investment team, sponsored by the Department for Business, Innovation and Skills.
The taskforce is headed by accountants' firm PricewaterhouseCoopers (PWC) and will find 100 new investment opportunities which will lead to 15 concrete investment projects from Kuwait, Qatar, Saudi Arabia and the UAE by the end of March 2015.
Business Secretary Vince Cable said:
"Growth remains our country's top priority. Encouraging firms to export more to emerging economies has formed a key part of the government's industrial strategy helping us stay ahead of the competition in key sectors where we are global leaders.
"UK exports of goods to the United Arab Emirates were up 11% until September last year, generating over £6 billion - a major success story for our commercial partnership.
"The UAE's long-term prospects remain strong and I am looking forward to meeting with businesses and key decision makers to take forward British interests in my first visit to the country."
In Dubai Dr Cable also met with some of the 170 UK businesses exhibiting at the international fire and security show Intersec and spoke to His Highness Sheikh Ahmed, President of the Dubai Civil Aviation Authority, about high value opportunities for UK business in the aerospace sector.
Firms wanting to export will be able to benefit from greater support from UK Export Finance. We are doubling the number of regional Export Finance Advisors, simplifying application forms and working with the banks to make them more aware of UKEF support and to provide clearer information that can be passed on to customers.
Published 21 January 2014