Press release
Business Minister returns to Redcar 6 months after steel plant closure
Anna Soubry will be in the Tees Valley today (21 March 2016), 6 months since the closure of the SSI steel-making plant in Redcar.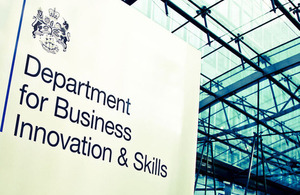 The government provided a support package worth up to £80 million to help workers who lost their jobs as a result of the company going into liquidation and the shutting down of the blast furnace.
Anna Soubry will meet members of the task force set up in response to the SSI closure to get an update on the local programmes that have been delivered so far.
One of the elements of that support package is a fund to help former workers set up their own business. Anna Soubry will hear from Dan Wilcox who took advantage of this scheme with £10,000 to start up Cleveland LGV Training with his son-in-law in Middlesbrough last November 2015.
As well as employing 4 former colleagues, over the next few months the company will have given training to around 100 people who worked at the Redcar site and set them on a new career path.
The Business Minister will also visit a growing family-run firm that, although small, has taken on four SSI workers. ERW Joinery makes a wide range of bespoke sustainable timber doors and windows at its purpose-built manufacturing facility in Middlesbrough.
Of the 2,000 plus workers at SSI, only around a quarter were still claiming Jobseeker's Allowance at the end of February 2016.
Business Minister Anna Soubry said:
The closure of the blast furnace in Redcar was a devastating blow to workers, their families and local communities. Six months on, good progress is being made with people being helped to get back on their feet, learn new skills or get training and find new employment. I know that the SSI task force will continue its efforts supported by this government.

Through Lord Heseltine's work on the Tees Valley Inward Investment Initiative, we are also focused on how we can further boost growth and job creation in the region.
Chair of the SSI Task Force and Chief Executive of Redcar and Cleveland Borough Council Amanda Skelton said:
Today's visit is an excellent opportunity for the minister to meet some of the businesses helped by the Task Force and support package funds. We have made positive progress so far, but there is still much to be done to rebuild our local economy. The Task Force remains focused on continuing to help the people, businesses and communities who still need support.
Notes to editors:
1.The government announced a support package worth up to £80 million on 2 October 2015 of:
up to £3 million for retraining through Redcar and Cleveland, Middlesbrough, Stockton Riverside and Hartlepool colleges
£2.6 million flexible support fund for further training
£750,000 to fund advice and grants to start up a new business
£1.7 million specifically to help SSI's apprentices complete their apprenticeships
£16.5 million jobs and skills fund to help local firms employ former SSI workers or their spouses
£16 million growth fund to safeguard jobs, create new jobs and give businesses support to grow
£2.4 million safety net fund for the most vulnerable, to cushion the blow of losing their jobs - for example if they are at risk of losing their home
Working with the SSI task force, as at March 2016:
more than 4,300 training courses have been delivered
over 12,000 applications have been approved under all the schemes
start up advice has been requested by 246 people and 56 businesses have been set up
through the jobs and skills fund, 203 jobs have been created. For every £1 of public support, the private sector is matching with £5.55
of the 51 apprentices – 34 are with employers completing their training; 6 are in training with the Apprenticeship Training Agency (ATA), 6 are employed by the ATA; 1 is being matched; 3 have taken up employment opportunities outside of the scheme and 1 has gone to university
2.Tees Valley is a world renowned industrial centre with a first-class reputation of delivering high value projects across its key sectors of Offshore, Oil and Gas, Advanced Manufacturing, Engineering, Chemicals and Processing, Automotive and Aerospace, Logistics, Renewables and Digital.
Its competitive edge over many other areas has helped Tees Valley attract over £1.3 billion of capital investment since 2011. The area's strong advantage over other UK and global locations is its low operating costs with rents and rates around half of most major cities, and a quarter of those in London. This, combined with competitive wage rates, and financial incentives available on sites and premises, make it a great location for new investment or expansion.
Tees Valley is also one of the most fertile places for developing talent, with the ever-expanding Teesside University home to 20,000 students, a large proportion of which study manufacturing and engineering courses.
One thing that really makes Tees Valley stand out as a forward-thinking business location is the way the area looks after its businesses. Tees Valley Unlimited work closely with UK Trade and Investment in the UK and around the globe to successfully deliver foreign direct investment into the area and are on hand to offer the best possible support and advice to help potential inward investors locate to an area with immense possibilities.
3.Office for National Statistics (ONS) statistics published on 16 March 2016 show that employment in the North East is at a new record high of 70.6%. Private sector employment is up by 111,000 since 2010 (fourth quarter of 2010 to fourth Quarter of 2015). In the North East, GVA (Gross Value Added) in 2014 stood at £47.7 billion – a 3.3% rise on the previous year.
Published 21 March 2016