Press release
Business Bank investment lends extra helping hand to small businesses
Welsh Secretary marks new investment in British Business Bank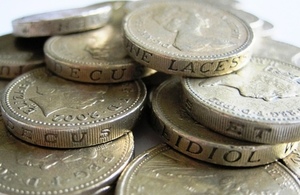 The additional multi-million pound investment in the British Business Bank is another clear demonstration of the UK Government's commitment to empowering small businesses, said the Secretary of State for Wales, David Jones.
The UK Government has today pledged to invest an extra £250m into the British Business Bank, in a bid to help small and medium-sized companies to invest and grow.
This funding is in addition to the £1billion of new capital committed by the Chancellor in last year's Autumn Statement.
The money will support a range of new innovative interventions including capital support for new market entrants, later stage venture capital and asset based finance.
Secretary of State for Wales, David Jones is encouraging Welsh small and start up businesses to capitalise on the UK Government support available, designed to empower the small business community.
Mr Jones said:
Small and medium sized enterprises (SMEs) have long been the backbone of the economic recovery in Wales, contributing 36% of all private sector turnover and responsible for nearly 630,000 jobs. Since 2010, over 1,000 more SMEs have set up in Wales, proving the entrepreneurial flair and growing confidence we see in the business sector.

But we want to do more to support small and start up businesses who may have found it difficult to raise finance through the main high street banks. They need investment to employ more people, to take on new orders and buy new equipment.

The British Business Bank will help them do just that. It will provide choice to smaller businesses looking to secure vital finance to help invest, expand their operations and drive forward much needed economic growth.

I would urge enterprising businesses in Wales to seize all the support available to them to help put Wales on a sound footing in the global race.
As well as access to Business Bank investment, businesses in Wales are also able to benefit from:
A new £1 million sector-specific mentoring scheme will enable firms to benefit from support and advice from experienced business people in their own field of work.

A £10 million start up fund launched by the Biotechnology and Biological Science Research Council (BBSRC) to help entrepreneurial scientists in this field to get their business off the ground

Start Up Loans - crucial support in the form of a repayable loan together with a business mentor for entrepreneurs across the country.
NOTES TO EDITORS
Key Facts on the British Business Bank
The British Business Bank was formally launched in October and now has £1.25bn of capital for new programmes to support SMEs. It is also taken over a number of legacy programmes. These legacy schemes generate over £600m of new lending and investment to UK SMEs on an annualised basis. This is up 85% on the same period last year.

The British Business Bank is making good progress in helping finance reach smaller businesses and has already made its first two commitments as part of its new investment programme - totalling £45 million. This will unlock financing of £125 million - because Business Bank money has attracted £80m of additional private sector money.

The institution is already operating in an interim form. It will become fully operational in autumn 2014, once EC State Aid approval has been cleared.

It is intended that the interventions put in place now, will have a lasting presence and make a real difference to business lending for many years to come.

The bank has taken over management of existing BIS access to finance schemes and will build on these, ensuring they remain flexible and meet the demands of the market.

The bank will be professionally run and commercially minded. It will operate at arms-length from ministers. It will be given a mandate to maximising the impact of the capital it has under management, whilst ensuring it is not depleted. It will not be profit maximising - any profits will either be recycled into more finance for SMEs or returned to the exchequer.
The British Business Bank has already made significant progress:
Our finance schemes have already resulted in an 82 per cent increase in the total level of financing (including private sector) to businesses through Business Bank solutions (Q2/Q3 2013 compared to Q2/Q3 2012).

10,000 smaller businesses benefited from a Business Bank solution in the year to October 2013.

By tackling both supply of finance and the competitive landscape of the business finance market, the British Business Bank should help to unlock up to a further £10 billion of additional finance for smaller businesses.

Business Bank activity will include supporting challenger banks, new entrants and alternative finance providers.
Published 2 December 2013
Last updated 3 December 2013
+ show all updates
Adding Welsh translation
First published.