Press release
Business backed by new Enterprise Bill
The government publishes an Enterprise Bill that backs business to drive growth, create jobs and ensure economic security for all.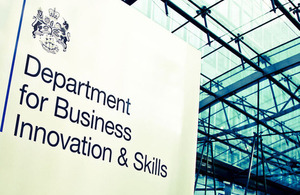 new measures aim to speed up insurance payments to business and give further powers to government for broadband investment
Small Business Commissioner will help small businesses resolve payment disputes with larger firms
regulators will contribute to ambitious £10 billion cutting red tape target
The government today (17 September 2015) publishes an Enterprise Bill that backs business to drive growth, create jobs and ensure economic security for all.
The bill will help tackle the scandal of late payments holding back many small businesses, ensure high quality apprenticeships, and make further cuts to burdensome red tape for the first time including the actions of regulators.
New measures announced today include:
a clamp down on the late payment of insurance claims to help businesses recover faster from fires and floods. There is currently no clear requirement for insurers to pay undisputed claims to businesses in a reasonable amount of time – this measure will introduce such a requirement into every contract of insurance
the Enterprise Bill will also update the Industrial Development Act to give new powers for government to fund new broadband projects across the country, for the benefit of industry or local communities
The Enterprise Bill will set up a Small Business Commissioner to help small firms handle disputes with larger businesses over issues like late payment, which costs small firms £26.8 billion.
The bill will also allow the government's ambitious £10 billion cutting red tape target to be extended to include the actions of regulators for the first time.
Encouraging businesses to invest in the skills of their staff is a vital part of the government's plan to boost productivity in the UK. The Enterprise Bill includes a measure to prevent people passing off poor quality training schemes as 'apprenticeships' and will set targets for the number of apprentices taken on by public bodies. This will ensure the public sector leads by example and invests in a highly-skilled workforce.
Business Secretary Sajid Javid said:
The government is committed to making sure the UK continues to be the best place in Europe to do business. The Enterprise Bill will help do just that with measures to cut red tape, protect high-quality apprenticeships and deal with unfair payment practices hitting small firms.

I firmly believe that to reap rewards for working people across the country we need to get behind our great British businesses.
Small Business, Industry and Enterprise Minister Anna Soubry said:
Our Enterprise Bill will help tackle some of the biggest issues facing business today. Overzealous regulation and unacceptable late payments are just some of the issues targeted in a comprehensive package of measures designed to give a boost to the UK economy.

This is about letting businesses get on with what they do best, while taking sensible action to support those that need it.
The Enterprise Bill will also extend the Primary Authority scheme, which has already helped over 7,000 businesses comply with local regulations.
Proposals are being published today to open up the scheme to thousands more small firms and entrepreneurs. They will also make trusted regulatory advice from a single local authority available to all businesses across England and Wales, whatever their size.
This will bring benefits to growth and productivity, and businesses are encouraged to respond to the proposals to help shape them.
Further measures in the Enterprise Bill will:
make regulators report annually on the impact their actions have on business
put a stop to taxpayer-funded, six-figure pay offs in the public sector
improve the business rates appeals system
stop business ratepayers from having to share the same information twice with local government and the Valuation Office Agency
Notes to editors:
The Enterprise Bill was introduced to the House of Lords on 16 September and published on 17 September 2015.

The following measures extend to the whole of the UK: Small Business Commissioner, Regulators (for non-devolved matters), Primary Authority scheme (for non-devolved matters in Scotland and in Northern Ireland), late payment of insurance claims, Industrial Development Act, Public Sector exit payments.

The following measures extend to England and Wales: Business rates
The following measures apply in England only: Apprenticeships

For further information on the territorial extent of the measures in the Enterprise Bill please read the explanatory notes

In July 2015, Bacs reported that small and medium businesses are owed a total of £26.8 billion in overdue late payments and that £10.8 billion is spent per year in attempts to recover overdue payments.

Since its introduction, Primary Authority has provided assurance to 7,695 businesses, doubling membership every year of the last Parliament. It now covers over 250,000 premises across the UK. Read more details in the proposals to extend the scheme.

The late payment of insurance measure was recommended by the Law Commission, which conducted a survey in 2011 suggesting that late payment occurs in up to 10% of insurance claims.
Published 17 September 2015