Press release
Business advisory firm Deloitte wins PM's Big Society Award
Deloitte's 'Social Innovation Pioneers' programme supporting 46 socially-focused businesses is recognised by PM with a Big Society Award.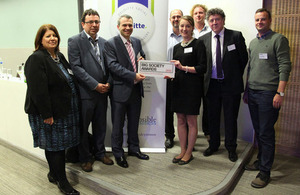 The Social Innovation Pioneers (SIP) programme helps businesses set up to solve social problems become sustainable, scalable and investment-ready by using the skills and expertise of volunteer Deloitte employees. The programme was started last year with over 30 social businesses and 1 year on, a further 16 businesses have been selected. They range in sector, turnover and the causes they address - including a number of social and environmental issues.
The Pioneers are given access to a series of workshops, one-to-one support and targeted pro-bono projects supported by Deloitte employees. It also includes introductions to business clients, access to supply chains and networking opportunities.
Employees at Deloitte are encouraged and empowered to use their skills and capabilities to help these social businesses, and have become more involved in their local communities.
Over the first 12-month period the programme has:
seen turnover of the Pioneer businesses increase by 45%, generated jobs equating to 80 full-time and 41 part-time roles
prompted more than 600 Deloitte employees to sign up to be part of the Deloitte Social Innovation Pioneer Network
generated a total of more than 3,000 volunteer hours given to Deloitte Social Innovation Pioneers by Deloitte employees during the first 6 months of the programme
Prime Minister David Cameron said:
Deloitte's Social Innovation Pioneer programme harnesses the skills and expertise of big business to help small social companies grow.The support of Deloitte has seen some great businesses become investment-ready, as well as getting the team more involved in their local communities.

I'm delighted to be recognising Deloitte's achievements with this Big Society Award.
Claire Bench, head of corporate responsibility and the Pioneers programme at Deloitte, said:
We are extremely proud that this programme has been recognised with this prestigious award. The project has engaged and inspired our people whilst also helping bring new innovation into the business particularly in the areas of procurement; but most importantly the feedback we have received from the business we have supported and the results of the independent evaluation also indicate that we have made a real difference to these businesses.
Notes to editors
Images available on request.
Media contact: Zoe Cooper 020 7007 4216 email: zcooper@deloitte.co.uk
For more information visit Deloitte Social Innovation Pioneers programme
Case studies
Pioneer: WildHearts
Wildhearts is a charity challenging poverty by using profits from companies launched within the group, such as WildHearts Office Supplies, to provide micro-finance around the world.
Deloitte support for Wildhearts includes:
identifying opportunities to promote their office supplies business. Ian Steele, lead partner for Deloitte's Scottish practice, has introduced them to a number of clients and contacts, resulting in £250,000 per annum of new contracts
in addition Deloitte has procured £12,000 worth of office supplies from Wildhearts and is in discussions with them about transferring its office stationery contract when it comes up for renewal at the end of the year
Ian Steele, Deloitte Senior Partner said:
I'll do whatever it takes to help promote (Wildhearts) simply because I think it's great for our firm to be involved. It adds to the reasons for people to be proud of what we do at the same time as developing and encouraging innovative thought and teamwork and, key, helping disadvantaged people.
Mick Jackson, Founder and CEO Wildhearts said:
Working with Deloitte is a delight. Everyone I meet consistently impresses and inspires me. Becoming a Deloitte Social Innovation Pioneer is easily one of the best things that ever happened to WildHearts.
Pioneer: Blue Sky
Deloitte worked with Blue Sky, who employs ex-offenders to provide commercial grounds maintenance and waste management services to local councils and housing associations.
Deloitte introduced an ex-offender from the enterprise into its supply chain working in Deloitte's staff canteen after careful negotiations with the procurement team. The firm also hopes to employ more people from Blue Sky over the next year, and help them expand this project into other businesses.
Mick May, chief executive of Blue Sky, said:
It has been a great year working with Deloitte, especially as we have been able to find employment for an ex-offender at the firm. In terms of innovation in catering, our supply chain work through the Pioneers programme has been dramatic. Also, the consulting work done with Deloitte has been of great strategic importance to Blue Sky – and they have really helped the business this year.
The Big Society Awards
The Big Society Awards were set up by the PM in November 2010. The aim is to acknowledge individuals and organisations across the UK that demonstrates the Big Society in their work or activities. In so doing, the aim is also to galvanise others to follow.
The award focuses on 3 specific areas:
Outstanding contribution to community
people, projects and organisations that enable communities to drive change themselves
projects and organisations that allow the community to identify solutions
people, projects and organisations that inspire others to contribute to their community
Improving lives and society through innovation, collaboration and new partnerships
people and organisations taking new approaches to public services
successful collaboration and partnerships between public, private and voluntary sector, working together to benefit communities
Engaging in social action
people, projects and organisations taking action in their community
working together for social change (e.g. through creating groups, campaigns, movements)
generosity of time, money, skills and other resources, in support of social action
Launching the awards, the PM said:
There are some amazing projects and remarkable voluntary work going on in towns and cities up and down the country, by all kinds of organisations from large enterprises to tiny grassroots schemes and inspirational individuals.

These awards are a chance to pay tribute to those making a valuable contribution to their community, the real champions of the Big Society, but perhaps more importantly, I hope they will motivate many others to take action, get involved and drive change in their area.
Nominations come in from the general public after which there follows a process of scoring and short-listing by civil servants and a further short-listing by a panel of ministers and independent external experts. This panel makes recommendations to the Prime Minister who makes the final decisions about who to make the award to. 12 winners are decided each quarter meeting and then announced once a week throughout the year.
Over 90 winners have been announced to date. Previous Big Society Award Winners include:
UBS and Bridge Academy
Over 1,700 UBS employees work with the Bridge Academy to support and inspire students, volunteering their time and skills in areas such as governance, staff development, fundraising and student literacy and numeracy.
BT
BT encourages their employees to volunteer three days of their work time to a range of charities, local communities and social enterprises. Since its launch in 2009, employees have contributed more than 28,000 days.
Brighter Future Workshop
Social Enterprise Brighter Future Workshops helps young, disabled and disadvantaged people gain life skills and independence by recycling mobility equipment which is then sold to those in need. Those involved in the scheme refurbish donated and discarded mobility equipment, which is then sold to those who need it.
Greenwich Leisure Ltd
Greenwich Leisure Limited is a social enterprise that manages over 70 public leisure centres in partnership with 20 councils across the South East.
For more information: Big Society Awards
Enquiries: Lucy Windmill 07795445197
Published 19 September 2013
Last updated 23 September 2013
+ show all updates
Photograph of Deloitte representatives accepting a Big Society Award added to article.
Updated examples of previous winners of Big Society Awards
First published.