Burma: UK to help those forced to flee their homes
Britain will help tens of thousands of Burmese people who have been forced to flee long-running conflict in the country.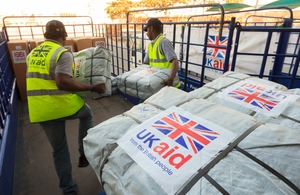 The UK will help tens of thousands of people from Burma who have been forced to flee long-running conflict with urgent humanitarian aid.
It will also provide longer-term support for those who Britain hopes can head back home in the future, preparing them for a peaceful process of return.
The new package of UK aid will help 155,000 refugees and internally displaced people (IDPs) with basic needs - such as food and sanitation.
In addition, it will help prepare those who may opt to return to their homes in due time, for example, by helping refugees understand their legal and human rights.
Long-running conflicts and ethnic tensions across Burma have led to an estimated 300-500,000 people being scattered within the country after fleeing the violence, while some 140,000 people found refuge in bordering Thailand.
Many are living in camps without basic services and supplies and require immediate humanitarian help.
Today's announcement underlines the UK government's commitment to helping strengthen the peace process in Burma.
The support will be split into three main areas: humanitarian relief, access to justice and protection, and peace building and preparation to return.
The UK's humanitarian support for refugees and IDPs will include:
Food for 139,000 refugees and 17,000 IDPs in camps
Improved sanitation facilities for over 100,000 IDPs
Ante-natal care for 30,000 displaced pregnant women
Action to reduce the tuberculosis death rate among displaced and refugee populations
On access to justice and protection, the UK's support will include:
Ensuring that refugees understand their human and legal rights
Ensuring that serious crimes reported in the camps are properly referred to the Thai justice system
On peace building and preparation for return, the UK's support will include:
Development of agricultural and business skills to help create viable livelihoods on return to Burma
Making sure that 8,000 refugee camp residents understand the Burmese legal framework so that they have relevant knowledge to return to Burma
Secretary of State for International Development Justine Greening said:
Refugees and IDPs are some of the most vulnerable people from Burma and are in need of urgent humanitarian relief. Recent political developments mean that for the first time in decades there is a very real opportunity to help refugees prepare for return and support peace building. This must take place alongside political dialogue to address grievances which have caused such bloody conflicts.

The recent outbreak of violence in Rakhine State makes these issues even more pressing. Inter-communal violence there has forced tens of thousands of people to flee their homes. Many are living without basic water and sanitation. We must act now to relieve the immediate suffering and to ensure that conditions do not worsen to cause further loss of life.

I hope that British support for this programme will not only improve the livelihoods of Burmese refugees and IDPs but also help create a stable and peaceful political situation in which they can integrate on return to their homeland.
The new package of support follows Britain's announcement to supply emergency water, sanitation and healthcare to more than 58,000 people hit by the recent outbreak of violence in the Rakhine State region of the country.
Since the violence began in June between the Muslim Rohingya and Buddhist Rakhine communities, over 100,000 people have had to leave their homes.
Britain's aim is for a durable political solution to the ongoing displacement of Burmese ethnic minorities within Burma and beyond its borders.
Published 7 November 2012