Burma: Joint support for new education initiative
The UK will work with Australia to help over 200,000 children in Burma to complete basic education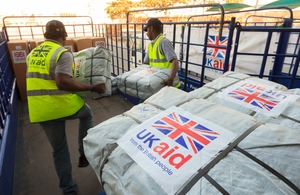 The UK will work with Australia to help over 200,000 children in Burma to complete basic education.
International Development Secretary Justine Greening and Australian Foreign Minister Bob Carr today announced a new education initiative - the Myanmar Education Consortium (MEC) - which will help over 200,000 children in Burma to complete a quality basic education.
The MEC will work alongside Burma's formal education system to reach children not in the government system. This will include an emergency component to support children whose education has been disrupted by violence such as the ongoing conflicts in Rakine and Kachin states.
With £3.7 million from the UK development budget alongside £9.6 million from AusAID, the MEC will ensure:
access to early childhood education for more than 55,000 three to five year olds;
basic education for more than 160,000 children; and
training for 4,500 non-government school teachers and 2,500 monastic school administrators and principals.
The announcement follows a meeting between the British and Australian ministers in London today to discuss international development cooperation between the two countries.
Speaking after the meeting International Development Secretary Justine Greening said:
Education, especially for girls, is the cornerstone of development. A nation can't develop effectively if only half its school-aged children are in education.

In Burma, conflict and vulnerability to natural disasters, such as the cyclones in the Irrawaddy Delta, mean huge uncertainty and disruption for families, and children can miss out on vital months and years of schooling. 

The MEC will help families to continue sending their children, including girls, to school. This programme is right to look beyond the formal education system to alternative providers so that these children don't miss out. We need to make sure that the recent violence and natural disasters don't turn into a long term disaster for Burma's children.
Australian Foreign Minister Bob Carr said:
Myanmar's current generation of children is at risk of being the first in the country's history to have a lower level of education than their parents.

Only half of Myanmar's estimated five million school-aged children will complete the full five grades of primary school.

Australia is committed to ensuring children around the world have the opportunity to complete primary school.

The MEC complements and builds on the successful work that DFID, AusAID, UNICEF and other donors are already doing in the formal education sector in Burma.
In the last 18 months, this formal sector programme has:
provided over 600,000 children with essential learning supplies and textbooks;
trained 9,500 teachers; and
 benefitted 17,500 children with early childhood services such as setting up school based pre-schools for three to five year olds.
Published 29 January 2013