Burma: Further humanitarian support for Kachin state
Britain will provide additional humanitarian support to those displaced by the ongoing conflict in Kachin State, Burma.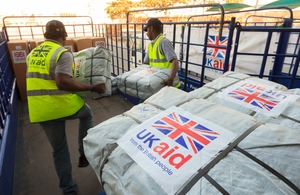 The UN estimate more than 10,000 internally displaced people in Kachin Independence Army (KIA)-controlled areas are not in receipt of sufficient, regular humanitarian assistance.
The UK support delivered via NGO Trocaire over the next five months will provide:
15,997 people with basic food rations;
21,479 people with modest supplementary cash grants (£4.68 per adult, per month) for meat and vegetables or the equivalent in cooked meals and basic hygiene support;
1,284 people with sufficient shelter;
800 children able to access 'safe areas';
5,000 people accessing psycho-social support, and
over 120 humanitarian staff (from local Kachin organisations) trained in providing humanitarian support to international standards.
International Development Secretary Justine Greening said:
Violence in Kachin has continued now for over a year and a half, forcing tens of thousands of people to flee their homes. Many are living without basic water and sanitation. We must act now to relieve the immediate suffering and to ensure that conditions do not worsen to cause further loss of life as the winter draws in.

The UK is stepping up to help, but I call on all donors to do more for the people of Kachin, and on all parties to ensure access for humanitarian agencies.
Trocaire has been working with a local faith-based organisation - Karuna Myanmar Social Services (KMSS) - to provide humanitarian assistance since the beginning of the conflict in June 2011, and with DFID funding since January 2012.
This assistance is in addition to the humanitarian support for Rakhine state announced in October, and to the humanitarian support and wider political reform announced in November.
Published 20 December 2012