Burma: Emergency aid for victims of violence
Britain will help supply emergency water, sanitation and healthcare to over 58,000 people hit by the violence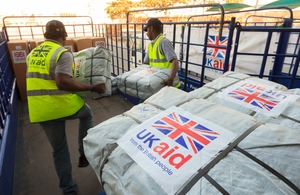 Britain will help supply emergency water, sanitation and healthcare to more than 58,000 people hit by the outbreak of violence in Burma.
The new UK aid will target those forced to flee the fighting in Rakhine State, Burma the International Development Justine Greening has said today.
Since the violence began in June between the Muslim Rohingya and Buddhist Rakhine communities, over 100,000 people have had to leave their homes.
Of this figure, the Burmese government estimates that over 28,000 people have been displaced and at least 76 have been killed as a result of renewed violence that started on 21 October.
Tensions remain high, with further episodes of violence in recent days leading to more people being displaced and losing access to clean water and sanitation. 
The British government will provide urgent humanitarian assistance via a group of trusted and independent non-governmental organisations. This will include:
Improved drinking water and household water storage for 42,394 people
Improved safe hygiene practices for 58,418 people, including 32,539 children
Improved access to sanitation facilities in communities and camps for 41,296 people
Improved access to treatment for acute malnutrition for 5,000 children
Appropriate, high quality nutritional advice provided to 10,000 carers of infants and young children.
Justine Greening said:
The recent outbreak of violence in Rakhine State has forced tens of thousands of people to flee their homes. Many are living without basic water and sanitation. We must act now to relieve the immediate suffering and to ensure that conditions do not worsen to cause further loss of life.

British aid will provide emergency sanitation, clean water, healthcare and nutrition to those affected by this terrible violence. But Britain cannot do this alone and we call on other donor countries to join in this relief operation.
The UK government has expressed deep concern at the latest outbreak of violence in Rakhine State. In statements over the last week, the Foreign Secretary and Foreign Office Minister Hugo Swire have called on all parties to cease the violence, for the Burmese authorities to take all necessary measures to guarantee security in the region, and to ensure access for supplies of humanitarian support.
Humanitarian assessments carried out by the UN and other non-government organisations suggest that people are in a precarious situation. Reports from field staff suggest that less than a third of the affected population have adequate safe drinking water, and more than half of the camps urgently require basic sanitation.
Published 31 October 2012