World news story
Burma: Chevening Scholarship applications for 2014/15 now open
This was published under the 2010 to 2015 Conservative and Liberal Democrat coalition government
British Embassy Rangoon invites Chevening Scholarship applications for 2014/15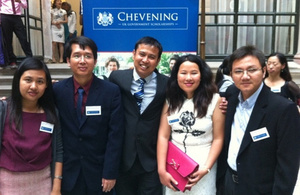 Rangoon, BURMA – The British Embassy Rangoon encourages applications from Burmese candidates for the UK Chevening Scholarship Programme for the year 2014/15.
Chevening is the UK's most prestigious scholarship scheme for foreign students and offers the opportunity for talented Burmese professionals from across the country to pursue postgraduate studies in the UK. Chevening scholarships are awarded for one-year Master Degrees at United Kingdom universities and other professional institutions.
Chargé d' Affaires, Mr Matthew Hedges, said:
Chevening has been awarding outstanding scholars with leadership potential from around the world for the last 30 years and we have been delighted by the quality and dedication of previous scholars from Burma. I strongly encourage all those interested to apply for this fantastic opportunity and become part of a highly regarded global network.
37 Burmese young professionals have already completed Chevening Scholarships in the UK in recent years. In 2012/13, five Burmese scholars are studying at London School of Economics and Political Science, University of Leeds, University of Sussex and University of East Anglia and pursuing their Masters degrees in Political Theory, Government and International Development and Public Health.
The British Embassy Rangoon will be accepting applications for Masters Degrees in the following broad areas of study:
• Human Rights / Democracy and Good Governance
• Politics / Political Science / Economics and Development
• Conflict Resolution and Prevention
• Environment
• Journalism / Media
• Education
A full scholarship will cover the cost of a UK visa, a return air ticket to the UK, all tuition fees (not exceeding £12,000 per year), and a monthly stipend and allowances. Candidates wishing to study a course with academic fees exceeding £12,000 per year should expect to part-fund their study. The scholarships do not cover costs for dependents.
Candidates are to be assessed against the following criteria:
• having the personal, intellectual and interpersonal qualities necessary for leadership in their home country
• be motivated to make a career leading to a position of leadership in their own countries within 10 years of their Scholarship
• be committed to networking to find global solutions
• be able to use their studies and experience in the UK to benefit themselves, their countries and the UK
• be capable of successfully undertaking and completing their proposed course
Eligibility and Core criteria
All selected Scholars must meet the following eligibility criteria:
• achieve a minimum level of English language ability at the time of application. The minimum English language requirement to qualify for a Chevening Scholarship will be Academic IELTS 6.5, IBT TOEFL 79, or equivalent (all Burmese applicants must fulfil this English language requirement by 31 March 2014)
• meet the academic and English language requirements for their chosen course of study.
• be a national of Burma at the time of applying for the award, and intend to return there at the end of the period of study
• hold a degree of an equivalent standard to at least a good UK second-class honours degree
• have at least two years' work or equivalent experience before applying
There is no age limit for Chevening Scholars. We welcome applications from candidates who reflect the full diversity of Burmese society, including ethnic minority groups and people with disabilities.
How to apply
Please refer to Chevening Scholarships for:
• Detailed information about recruitment criteria, application details and deadlines;
• Information on arranging an English language test,
• Information on choosing a course/university in the UK.
The deadline for applications for the 2014/15 programme is 15 November 2013. All applications should be submitted online through the website addressed above.
The British Embassy Rangoon will select the candidates in partnership with the Chevening Scholarship Secretariat in London and will help place successful scholars on suitable courses. Shortlisted candidates will be contacted by February/March 2014 for interview.
Burma Chevening Cambridge Scholarship – An Exciting Opportunity
In addition to our regular Chevening Scholarships, the British Embassy in Rangoon in partnership with the Cambridge Commonwealth, European & International Trust is working together to offer the Burma Chevening Cambridge Scholarship, tenable only at the University of Cambridge. Up to two Burma Chevening Cambridge Scholarships will be awarded in 2014/15.
Hilary Perrott, Development Manager at the Cambridge Trust said:
The Cambridge Trust is delighted to be working with the British Embassy Rangoon to offer jointly-funded Chevening scholarships specifically for Burmese students at the University of Cambridge. The scholarships are available in a wide range of subjects, and will enable some of the most talented Burmese students to take a Masters degree at one of the world's leading universities.
For this Cambridge Scholarship Programme, applications are required to apply to the University of Cambridge as well as to the Chevening programme. Full details on how to apply can be found on the University's website at University of Cambridge
The deadline for Cambridge applications is 3 December 2013, (please note that applicants will therefore need to apply simultaneously for both the University place and the Chevening Scholarship). Those interested in applying should contact Press.Officer@fco.gov.uk at the earliest opportunity.
Chevening University of Warwick Scholarships
The British Embassy in Rangoon is also pleased to announce a new partnership with the University of Warwick, to fund Chevening University of Warwick Scholarships in Cambodia, Burma and Laos. Professor Nigel Thrift, Vice-Chancellor at The University of Warwick said:
I am delighted that the University of Warwick is partnering with the Foreign & Commonwealth Office to provide these opportunities for talented students from Burma, Cambodia and Laos to study for a Masters degree at Warwick. These opportunities will enhance the ability of those elite scholars to make a significant contribution to the future of their home countries and will their Warwick experience will help give them an invaluable global perspective.
Click here to find out more details about the Chevening University of Warwick scholarships in Burma.
Notes to Editors
Chevening scholarships are not applicable for PhDs, undergraduate studies or professional courses (e.g. ACCA, RIBA, ICSA etc) nor are they awarded for studies outside the UK, for distance learning or for part-time studies. For further information, please contact British Embassy Rangoon, 80 Strand Road, Rangoon, Burma, Tel: +95 1 370863, 370864, 370865 or Email: Press.Officer@fco.gov.uk
About Chevening Scholarships
Chevening Scholarships are the UK government's global scholarship programme, funded by the Foreign and Commonwealth Office (FCO) and partner organisations. The Chevening programme began in 1983 and has developed into a prestigious international scheme. Scholars come from 116 countries worldwide and approximately 700 scholarships were awarded in 2012-2013. There are over 41,000 Chevening alumni around the world who together comprise an influential and highly regarded global network. For further information and to apply for a Chevening Scholarship please see Chevening Scholarships and Chevening/Burma
Document information
Published: 2 September 2013