Burma: 23rd anniversary of student uprising
Foreign Secretary William Hague marks the 23rd anniversary of the August 1988 student uprising in Burma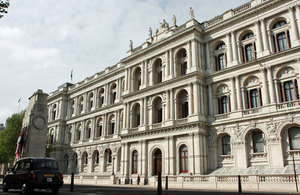 During the "8.8.88" uprising more than 3,000 students and young people were killed by the Burmese military during pro-democracy protests on 8 August 1988. But the event led to elections in 1990 and a landslide win by Aung San Suu Kyi's party, the National League for Democracy(NLD). The NLD were never to be permitted to take power.
Speaking today the Foreign Secretary said:
"Today marks the anniversary of the August 1988 student uprising in Burma and is an opportunity to reflect on the sacrifices which continue to be made by those who have long strived for peace in Burma. Sadly, 23 years on, their struggle for democracy continues. The renewed fighting in ethnic areas is the direct result of the exclusion of certain groups from having a say in their own future."
Renewed conflict in Kachin State over recent months was sparked by a dispute over the construction of a hydro-electric dam in Myitsone by Chinese investors, endorsed by the Burmese authorities, with little regard for the impact on the environment and the local population. More generally tensions in ethnic areas have increased following rigged elections in November and the efforts of the military to coerce ethnic armed groups to join a national border guard force.
Aung San Suu Kyi met the Burmese Labour Minister U Aung Kyi on 25 July; her first meeting with a Minister since her release in November.
The Foreign Secretary continued:
"We remain firmly behind Aung San Suu Kyi's goal for a free and democratic Burma. We remind the Burmese authorities again to take seriously their responsibility to safeguard her security. The Burmese authorities' meeting with her in July could be an encouraging step provided it is the start of a sustainable dialogue. Only a genuine process of reconciliation with all ethnic and political groups can bring Burma the stability that its people so rightly deserve."
Published 8 August 2011