Building stability in Helmand, Afghanistan
Paul Amato, Deputy Head of Mission at the Helmand Provincial Reconstruction team, has visited Musa Qala to hear about progress there.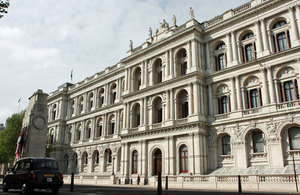 Speaking about the visit, Mr Amato said:
"Speaking with District Governor Naimatullah, I was greatly encouraged to hear about the success of the recent stability shura (meeting) in Musa Qala. Over 70 persons participated, including Afghan representatives from Washer, Kajaki, Now Zad and Sangin districts, as well as provincial level representatives.
The shura demonstrated the growing confidence of district officials, and their increased contact with the provincial government. It also demonstrated the improved security in Musa Qala and reinforced the perception that development efforts are beginning to bear fruit. The outcome of this shura should ensure recent successes in extending governance are built upon."
District Governor Naimatullah Khan is supported by a seventeen member District Community Council that was elected in October. Their vision for district government is now being realised. The new Afghan National Police headquarters for the district is now complete and the community health clinic has been refurbished. Soon to be completed office accommodation for the district government will help ensure that the local government is both visible and accessible to the local population.
Paul Amato is a US public servant and has been the Deputy Head of the Helmand Provincial Reconstruction Team (PRT) since September 2010.
The British-led PRT is supporting the Afghan government deliver governance and security across the Province, including in Musa Qala. The PRT includes US, Danish and Estonian personnel as part of a multinational effort.
Published 22 December 2010