Press release
Budget is a major boost for Welsh businesses and households
Welsh Secretary responds to Budget 2014 announcement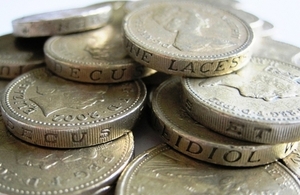 The 2014 Budget will help Welsh households and businesses by boosting investment, jobs and growth in Wales, Secretary of State for Wales, David Jones MP said today (Wednesday, 20 March).
Mr Jones said the Chancellor's announcements will reduce energy costs, help with the cost of living and provide greater economic security for hardworking people across Wales.
As a result of the measures announced today, the Government's Business Energy Package will save Welsh businesses up to £230million between 2016/2017 and 2018/2019.
The Government will also compensate energy intensive industries for higher electricity prices, worth around £2billion by 2018/19. Collectively, energy intensive industries in Wales will benefit from this package by around £240million between 2016/2017 and 2018/2019.
Households will also benefit too. By 2018/2019, freezing the Carbon Price Support should take £15 off the average household bill, in addition to the £50 on average the Government has saved for households announced in the Autumn Statement.
In other measures announced today, almost 200,000 Small and Medium Enterprise (SMEs) in Wales could benefit from a package designed to improve their access to finance. This will see the Government consulting on how to better match SMEs rejected for a loan with alternative credit providers. It would also mean a quicker process for when a SME needs action from their bank to get finance elsewhere.
Overall, the Welsh Government will benefit from an additional £36million of spending power - including money for flood defences, fixing potholes, cathedral repairs, estate regeneration and apprenticeship grants for employers. This will mean that since the 2010 Spending Review, the Government has increased Welsh Government spending by nearly £800million.
Secretary of State for Wales, David Jones will tomorrow (Thursday, 20 March) introduce a Wales Bill that will devolve new tax and borrowing powers to Wales, enabling the Welsh Government to be accountable for more of the money it spends and providing it with further tools to grow the Welsh economy.
Secretary of State for Wales, David Jones said:
Today's Budget makes clear that the Government's commitment to strong, sustainable and balanced growth is working and that businesses and families across Wales will continue to benefit from the economic recovery.

I was particularly pleased to see that the Chancellor unveiled a radical package of measures to cut energy costs. This will be a welcome boost to the energy intensive industries that employ thousands of people across Wales as well as cutting energy bills for hardworking households too.

Tomorrow, I will introduce the Wales Bill which will give new tax and spending powers to Wales. However, it will be up the Welsh government to seize the opportunity and drive forward Wales's economic growth with the new powers that are being offered.

We know that the job is not done and there is more to do, but what this Government has shown is that by sticking to its economic plan we can deliver a brighter economic future for the people of Wales.
The Chancellor also announced an increase in income tax personal allowance from £10,000 in 2014/15 to £10,500 - this will benefit 1.2million tax payers in Wales, and lift 14,000 low income individuals out of income tax altogether. Taken together, the changes to personal allowance threshold since 2010 have lifted 155,000 people in Wales out of income tax.
More than 600,000 pensioners in Wales will also be able to top up their pension by up to £25 per week by opting for the new class of Voluntary National Insurance Contributions.
The starting rate of savings tax is also being cut from 10% to 0% and the band to which it applies will be extended from £2,790 to £5,000 - potentially benefitting up to 74,000 savers in Wales.
In addition, the Government will increase the overall and cash ISA limits from £11,520 to £15,000 - benefitting up to 299,000 ISA account holders in Wales.
Wales Office Minister, Stephen Crabb:
This Budget will ensure that the economic recovery in Wales continues, with more jobs, more investment and more growth.

This is a Government that is investing in Wales and the proposals to give SMEs access to finance demonstrates our commitment to ensuring that Wales stays competitive at home and abroad.

We appreciate that times are tough and that is why the Chancellor's increase in the income tax personal allowance, lifting thousands of low income people out of income tax altogether, will be welcome in Wales.

The economy in Wales is continuing on its road to recovery due to the difficult decisions that this Government has taken in the past.
Wales Office Minister, Baroness Jenny Randerson said:
Families and businesses in Wales are benefiting from the Coalition Government's long term economic plan.

This Budget will see the Welsh Government benefit from an extra £36million of spending power - money they can spend on everything from flood defences and potholes to cathedral repairs and estate regeneration.

This means that since the 2010 Spending Review, the Government has boosted the Welsh Government's spending powers by almost £800million.

From pensions to energy and from SMEs to savers, this Budget will cut costs and put more money back into people's pockets.

In doing so, we are working to create a more prosperous future for Wales and the rest of the UK.
The latest employment figures from the Office for National Statistics were also published today. They reveal that 1,000 more people are now in work in Wales over the last quarter.
They also show that Wales has seen the largest fall in the rate of unemployment of all UK nations and regions over the last quarter - and the last year as a whole - falling to 6.7 per cent in comparison to the UK figure of 7.2 per cent.
Commenting on the figures, Secretary of State for Wales David Jones, said:
These figures once again demonstrate that we are continuing to see encouraging signs of growth and recovery in Wales. Under this Government, the number of people in work in Wales has exceeded 1.38million for the first time in our history.

The Government is firmly committed to ensuring that people of working age in Wales have the opportunity to engage in the labour market in order to advance their career prospects, reduce the risk of long‑term unemployment and welfare dependency, and encourage social mobility and further economic growth.
Published 19 March 2014