News story
Budget extension of Help to Buy equity loan creates thousands of construction jobs
Help to Buy Equity loan scheme extension creating new construction jobs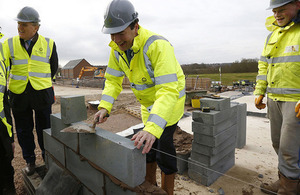 Budget 2014 announced the extension of the Help to Buy Equity Loan scheme until the end of the decade. The extension of the scheme is expected to help another 120,000 families in the UK to buy a new-build home by 2020.
As a result of the decision to extend the scheme, Barratt Developments has today (20 March 2014) said they expect to create another 3,000 jobs. And the Home Builders Federation has estimated that a 120,000 new homes would create 300,000 new jobs in total. This includes 180,000 new home building jobs.
The Chancellor today visited an 800-home Barratt development in Nuneaton, which through the Help to Buy equity loan scheme has so far enabled almost 50 households to buy a new home.
Speaking on the visit, the Chancellor said:
Help to Buy is making the dream of owning your own home a reality for thousands of hardworking families up and down the country. That's why at this week's Budget I extended the Help to Buy equity loan scheme to the end of the decade, which will deliver 120,000 new homes and will get Britain building.

I'm delighted that the Home Builders Federation say this will give real boost to the construction industry, meaning many more jobs and I hugely welcome today's announcement by Barratt that they will create 3,000 new jobs as a direct result of the action we have taken at Budget.
Since its launch last year, the scheme has helped over 25,000 households to afford to buy or reserve a new-build home.
Mark Clare, CEO, Barratt Developments said:
As the land we are buying today is for the homes we will be building in 2016 and beyond, the industry needed a longer term framework for Help to Buy. We can now invest with more confidence and continue to increase production creating 3,000 new jobs on our sites, and also supporting the 5,500 supplier companies that work with us.
The Help to Buy equity loan scheme has already had a positive impact on housing supply. An estimated 30 percent of all new builds homes in England are being funded through the scheme.
Stewart Baseley, executive Chairman of the Home Builders Federation said;
The Help to Buy equity loan scheme is driving demand for new homes and so allowing builders to increase the numbers of homes they build. If people can buy, builders can build. The scheme is providing certainty for the industry, allowing companies large and small to take on the builders and apprentices needed to construct the homes the country needs. HBF estimates that 120,000 homes would create 180,000 jobs directly in home building, and around 300,000 in total including the supply chain.
Published 20 March 2014