Press release
Brothers sentenced for the illegal sale of medicines
Two brothers were today sentenced at Chelmsford Crown Court for the illegal importation and sale of unlicensed erectile dysfunction drugs.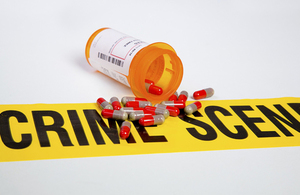 Charlie Knight, 21yrs old and Matthew Knight, 27yrs old, from Station Road, Hatfield Pereval in Essex were both given eight month prison sentences, suspended for 12 months and ordered to carry out 200 hours of community service. They were also ordered to pay £1000 in costs each.
This followed an investigation by the Medicines and Healthcare products Regulatory Agency (MHRA).
During the investigation a raid was conducted on a property in Hatfield Pererval, Essex. MHRA investigators found over 19,000 doses of unlicensed erectile dysfunction medicines.
Investigators also found that the brothers were running a business called MedKnight Services and were selling the medicines to customers in the UK and across Europe via eBay.
MHRA Head of Enforcement, Alastair Jeffrey, said:
These men had previously been warned that their actions were against the law and yet they persisted in their actions.
People like this involved in the illegal supply of medicines aren't interested in your health - they are only interested in your money.
Please think carefully before purchasing medical products from internet sites as you have no idea where they have come from or what they might contain. If you do chose to buy medicines online you should only buy from a site that is registered with MHRA and displays the new EU common logo.

If you have any concerns about your health the best thing you can do is to see your GP and get a proper diagnosis.
Background
Medicines and Healthcare products Regulatory Agency is responsible for regulating all medicines and medical devices in the UK by ensuring they work and are acceptably safe. All our work is underpinned by robust and fact-based judgements to ensure that the benefits justify any risks. MHRA is a centre of the Medicines and Healthcare products Regulatory Agency which also includes the National Institute for Biological Standards and Control (NIBSC) and the Clinical Practice Research Datalink (CPRD). MHRA is an executive agency of the Department of Health.
Media enquiries
News centre
MHRA
151 Buckingham Palace Road
Victoria
London
SW1W 9SZ
Email newscentre@mhra.gov.uk
During office hours: 020 3080 7651 (08:30 - 17:00)
Out of office hours: 07770 446 189 (17:00 - 08:30)
Office hours are Monday to Friday, 8:30am to 5pm. For real-time updates including the latest press releases and news statements, see our Twitter channel at https://www.twitter.com/mhrapress
Published 8 February 2016