World news story
British volunteers help disabled children in Moldova
This was published under the 2010 to 2015 Conservative and Liberal Democrat coalition government
The British Ambassador, Phil Batson visited the boarding school for mentally disabled children in Orhei.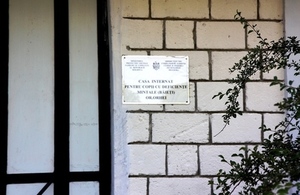 Students for Kids International Projects 'SKIP' is a student led UK-based registered charity which supports child welfare in communities throughout the developing world.
SKIP Edinburgh Moldova was launched in 2008 and is the only SKIP branch that works in Europe. The project assists the boarding school for mentally and physically disabled boys in Orhei which houses over 200 boys with different disabilities, ranging from mild to severe.
The first group of volunteers arrived in 2009 for 3 weeks. Since then, the programme has become popular and there are now four groups of 10-12 volunteers visiting throughout the summer. Despite originally being open exclusively to volunteer medical students, there are now volunteers from different disciplines, such as marketing and engineering. With basic training from a qualified physiotherapist, the volunteers were taught about the importance of posture and movement to children with physical disabilities. They were shown how to safely and effectively interact with these children in order to improve their posture and limb function.
Other activities include: creative play, postural management and most importantly walks and short day trips outside the institution. These trips help the residents to learn about the community within which they are integrated.
On 8 August the British Ambassador, Phil Batson visited the project. He was struck by the dedication and enthusiasm of the volunteers to improving the quality of the lives of these children.
The commitment of these volunteers to assisting children with disabilities and learning more about challenges of working in this area and Moldova as a country are impressive, especially since they cover all their travel expenses themselves.
On SKIP website you can find more information about their activities in Moldova.
Document information
Published: 23 August 2013