British support to meet urgent humanitarian needs in Libya
Britain will provide urgent humanitarian support including medical help, food and other basic supplies for thousands of people affected by the conflict in Libya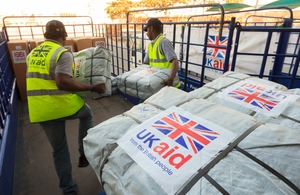 Britain will provide urgent humanitarian support including medical help, food and other basic supplies for thousands of people affected by the conflict in Libya, International Development Secretary Andrew Mitchell announced today.
This new support, which comes from Britain's development budget, will contribute to:
providing surgical teams and medicines for the treatment  of up to 5,000 war-wounded patients, and boosting local medical staff's expertise in war surgery   techniques
helping to reunite families who have been separated by the conflict as well as moving civilians at immediate risk from fighting to safe areas nearby
providing food for nearly 690,000 people and essential household items for a similar number of people forced out of home by the fighting.
This new British support will go through the International Committee of the Red Cross (ICRC), which has had a permanent presence in Tripoli since mid-April and is getting medical supplies and staff in to hospitals in the city.
International Development Secretary Andrew Mitchell said:
"Since the onset of the crisis, Britain has stood by the people of Libya.
"As the conflict moves into its final stages there are many Libyans in need of urgent humanitarian help.
"The situation on the ground in Tripoli is an incredibly difficult one for humanitarian agencies. But organisations such as the ICRC are doing extraordinary work in dangerous and difficult circumstances to get supplies and doctors through to those in need. This new funding from our development budget will help them to continue their vital work in critical areas across Libya.
"Today we pay a huge tribute to the humanitarian agencies who are risking their lives in Libya to help and sustain their fellow human beings."
Published 27 August 2011