World news story
British Speaker welcomed to NZ with a Powhiri
The Rt Hon John Bercow, spent the day meeting young New Zealanders and experienced a traditional Maori welcome.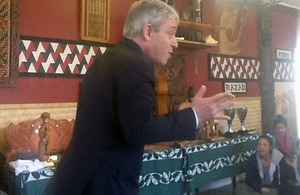 The Speaker of the British House of Commons, Rt Hon John Bercow, spent a busy day in Auckland meeting young Pacific leaders and taking part in a Powhiri at an Auckland school.
The Powhiri saw the Speaker tell students that he was the 157th speaker to hold the position since 1215. He said:
In the past Speakers had been murdered and executed as they were the people in parliament that spoke to the King.
Earlier in the day he met parliamentary speakers from Tonga, Rarotonga and Samoa's Deputy speaker. He then went on to talk to young Pacific leaders.
Mr Bercow who has spent a week in Burma had earlier told Fairfax's Michael Field that:
He was inspired by the sight of Aung San Suu Kyi taking her seat in the Burmese Parliament and there was a growing appetite for reform in Burma.
Published 6 August 2013