British soldiers in Afghanistan
British Ambassador to Afghanistan William Patey has offered condolences following news that six British soldiers are missing, believed killed in Helmand Province.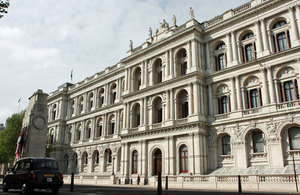 He said:
"Today we must mark the tragic news that six British soldiers are missing, believed killed, in an incident in the Task Force Helmand area of operations.
As Sir David Richards has said, there have been many personal tragedies during this campaign and we honour those who have lost their lives as well as those who continue to put their lives at risk to protect our national security.
"We are incredibly proud of the role that the British armed forces are playing here. As part of the ISAF coalition, we are helping to build up the Afghan National Security Forces so that Afghanistan never again becomes a haven for terrorists who could inflict grave damage on the UK and others.
"We also have a strong non-military presence here in Kabul and in Helmand that is working in partnership with the Afghan government to enable Afghanistan to continue on the path toward stability, security and prosperity. This is an enduring partnership with Afghanistan that will last long after British and ISAF combat troops depart.
"The UK-led Provincial Reconstruction Team in Lashkar Gah works closely with Task Force Helmand, the Brigade to which those believed killed yesterday belonged. The enormous progress made in recent years to strengthen governance and development for the people of Helmand would not have been possible without the courage and sacrifice of British troops, as well as those of other coalition and Afghan forces.
"My thoughts, those of my staff, and those of the British people, are today with all the families and loved ones of those who have made sacrifices. In our endeavour to build a stable and secure Afghanistan, we will continue to work to ensure that their sacrifice will not be in vain."
Published 7 March 2012