British Serviceman to take part in 35th Independence celebrations
Members of the Royal Irish Regiment will be visiting St Lucia from 20 to 25 February to congratulate her on the 35th Anniversary of Independence.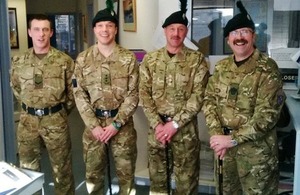 The Royal Irish Regiment has a long history with St Lucia.
Their forebears fought with great distinction in the battle of St Lucia in 1797 and saw a unique honour bestowed upon their regiment in that they were the first and only regiment to be given the honour of having their regimental colours fly over a captured fortress.
The regiment's main barracks in Northern Ireland were also known as the St Lucia barracks until their closure, as part of the dividend for peace in 2007. The St Lucia Archaeologicial & Historical Society in collaboration with the St Lucia National Trust will be holding a ceremony to mark this battle honour at the Inniskilling Monument on Morne Fortune on 21st February. World Famous Pipe Major Lcpl Liam Lewis from the regiment will be playing at this and a number of events during their visit.
He has previously starred at the Edinburgh Military Tattoo.
During their visit they also plan to participate in the Independence Parade and will take part in a reception on 21 Feb to toast St Lucian independence for invited guests at the residence of the Resident British Commissioner.
The teams visit to St Lucia has been sponsored by the UK Ministry of Defence, Virgin Atlantic and The Royal St Lucian Hotel.
Published 21 February 2014