World news story
British professors train youth in entrepreneurship and innovation
The Foundation for Agrarian Innovation and Innovate UK held a workshop to help young innovators develop their business ideas in Chile.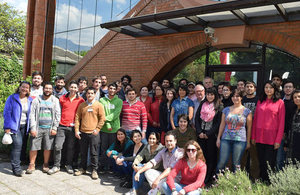 During two intense weeks, more than forty applicants to the Young Innovators Programme received training in subjects such as innovation, finance, business, marketing and intellectual property, among others. Supported by the Newton Fund, the workshop was held between 17 and 28 October 2016.
The team in charge of the workshop included professors Philip Wragg and Russell Smith from Business Boffins Ltda. along with Terry Pollard and Eva Baltar from Oxford University Innovation, a global technology transfer and innovation management consultancy company, supported by Oxford University.
The agriculture sector is one of the most important sectors in Chile and the largest employer. The industry faces several challenges such as lack of innovation, climate change and migration of the population. "Young Innovators" is a Newton-Picarte innovation capacity development programme that aims to help young entrepreneurs to develop new products and services. The programme is a joint effort between Foundation for Agrarian and Innovation UK, supported by the Newton Fund which is an initiative from the British government.
The "Young Innovators" programme seeks to support innovative initiatives that contribute to the development, adaptation and validation of new technologies as well as the generation of new products and services associated with the implementation of a business. The goal of the programme is to generate economic impact in Chile's agricultural, food and forestry industries.
This year the programme is looking for entrepreneurs with projects focused on areas such as adaptation to climate change, environmental sustainability, biotechnology, marketing in agrifood and food safety.
The first round of young innovators in 2015 was a great success: some of the winners are already on their first steps in the market sale, some of these projects include "Ki-Nua" an instant and healthy nutritional supplement made of Chilean quinoa; a vegan mayonnaise made of peas or an economic and portable kit to detect toxins in vineyards.
After the training, the young innovators will present their proposals again, using their new knowledge and business tools. The twenty top ranked proposals will receive funding to develop their projects and they will get the opportunity to go to UK to visit technology centres, innovative companies and participate in business meetings.
Further information
For more information about the Newton-Picarte Fund, please contact Alvaro Cabrera, Newton-Picarte Fund Coordinator, British Embassy, Santiago.
For more information about the events and activities of the British Embassy in Santiago, follow us on:
Published 3 November 2016