British Prime Minister visits Republic of Korea
Prime Minister David Cameron made an official visit to the Republic of Korea (South Korea) from 11 to 12 November to attend the G20 Summit.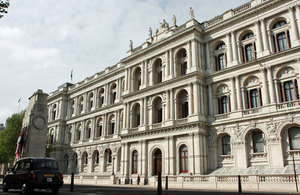 Prime Minister David Cameron
British Prime Minister David Cameron visited South Korea from 11 to 12 November to attend the G20 Leaders' Summit in Seoul.
The Prime Minister led the British delegation to South Korea, which is composed of Chancellor of the Exchequer George Osborne as well as leading figures from the nation's industrial and commercial sectors and around 40 media representatives.
During his stay in South Korea, the Prime Minister met South Korean President Lee Myung-bak and delivered the closing speech at G20 Summit.
The Prime Minister's tour is his first visit to South Korea after he took office in May and is significant to the long-term development of UK-South Korea relations. The UK and South Korea have maintained strong bilateral relations since the coalition government was formed, with close cooperation in various fields including trade and investment.
Commenting ahead of the Prime Minister's visit, Martin Uden, British Ambassador to Seoul, said:
"The PM's visit represents a great opportunity for a senior member of the coalition government to see first-hand one of the world's most dynamic economies. It also serves to highlight the UK's continued commitment towards supporting two-way trade and investment between the two countries.
The British Government sees the key goal for the G20 as being to continue the recovery of the world economy and secure sustainable growth.''
Prime Minister visits Korea
Please click on the image to find out more about what it shows.
Published 12 November 2010