World news story
British Olympic team helps to inspire a creative future in Nanjing
This was published under the 2010 to 2015 Conservative and Liberal Democrat coalition government
On 14 August, athletes and coaches from the British Youth Olympic Team (Team GB) took part in a Reception in Nanjing that aimed to promote British creativity.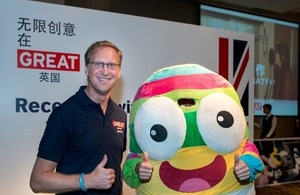 British Consul General, Brian Davidson welcomed over 300 guests on a night that saw distinguished government, commercial and sporting guests experience a taste of British creativity.
Guests were able to learn more about the GREAT Festival of Creativity that will be held in Shanghai, March 2015.The Festival will bring together the next generation of creative thinkers, offering businesses a platform to exchange innovative and commercially compelling ideas. Guests from Nanjing and the wider Jiangsu province are invited to take part in this spectacular event. The Festival is a Prime Ministerial initiative, with Shanghai being the biggest of all the worldwide stops.
Since 2012 the UK has played host to the Olympic and Paralympic Games, and in Glasgow, just last week, the UK saw the culmination of the Commonwealth Games.
It was always the plan that the legacy left by the Games should last a lifetime.
Critically, the UK's vision is about helping businesses to build on the reputation secured by the Games over the last 2 years. A big part of the legacy is driving the jobs and growth that will aid the UK-China creative partnership in being a highly dynamic one.
Team GB, led by Chef de Mission Sarah Winckless, attended the Reception as guests of honour. 33 athletes will compete in the Youth Olympics, and the guests at the Reception were able to find out who the flag bearer for Team GB will be at the Opening Ceremony this weekend. An inspirational video featuring Lord Sebastian Coe was screened on the evening (Chairman of London 2012).
Since London 2012 the draw of creativity in the UK has added to an increase in the numbers of Chinese people wishing to travel to the UK. This is why the UK expanded its Visa Application centre in Nanjing earlier in 2014.
One of the ways that UK-China creative collaboration will be enhanced is through the new Super Priority Visa. Guests learnt that the Super Priority Visa will allow applicants to receive a visa decision within 24 hours.
Brian Davidson paid particular thanks to The London Taxi Company who were the platinum partner for the Reception.
He said:
The last time we collaborated in Nanjing was at the Olympics site, and following on from this partnership the London Taxi Company made a delivery of 500 taxis to the city of Nanjing. Long may this fine example of UK-China collaboration continue. Let us further inspire the next generation of British and Chinese entrepreneurs to work together to create a prosperous future.
Document information
Published: 15 August 2014