British Muslims visit Afghanistan
A delegation of British Muslims visit Afghanistan to challenge misconceptions about the reality of life for Muslims in Britain.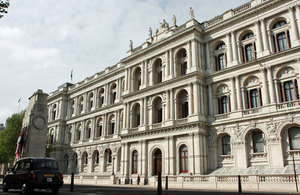 In the four day trip, Imam Asim Hafiz, Dr Usama Hasan, Mufti Yusuf Akudi and Haji Mohammad Siddique Yakrang Dawlatzai will meet senior Afghanistan Ministers, have discussions with Afghan Ulema to see how they are involved in planning for reconstruction and meet with British Troops where they will see the partnership between British and Afghan forces in Action.
This visit is also an opportunity for the delegates to demonstrate the active role that the British Muslim communities play in all areas of UK society.
Each member of the delegation plays an important role in the UK. Imam Asim has been a qualified Imam for six years after he graduated from an Islamic academic institution in the UK. He has held Imam and Chaplain positions in mosques, NHS hospitals, a Mental Health and Social Care Trust and a boarding school. He is currently the Ministry of Defence Muslim Chaplain.
Dr Usama Hasan is a Senior Lecturer in Computing Science at Middlesex University, a former Planetarium Lecturer at the Royal Observatory Greenwich, and is a researcher for the Islamic Sharia Council. Dr Hasan has also been an Imam in various mosques around London and Cambridge, including the Al-Tawid Mosque in Leyton, which he works part time.
Mr Yakrang Dawlatzi is an executive board member of the 'Afghan Islamic Community in the UK' with a great knowledge of Islamic schools of throughts.
Mufti Yusuf Akudi is a board member of the Yorkshire and Humber Faiths Forum and actively engages with faith communities locally, supporting several voluntary community sector organisations locally for many years.
This is the second time the UK has taken a British Muslim delegation to Afghanistan, following a successful visit last October. A delegation of the Afghan Ulema visited the UK recently too.
Published 19 August 2010