British Minister for the Middle East tours South Lebanon
The British Minister for the Middle East, Alistair Burt arrived in Lebanon today for a two-day visit following his activities in Damascus.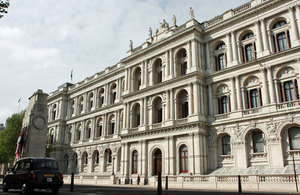 Minister Burt, accompanied by British Ambassador Frances Guy, visited South Lebanon this morning. He attended a briefing by UNIFIL at their headquarters in Marjeyoun, visited Fatima Gate and toured the Blue Line.
He then paid a field visit to a demining field in the village of Yohmor and received a briefing by Andy Stott and Christina Bennike from the British NGO Mines Advisory Group (MAG) on the mechanism used for demining. The delegation also inspected closely how demining is carried out on mines and unexploded ordnance.
Speaking after the field visit, Mr Burt said 'If anyone wants to know why the Middle East Peace Process has to succeed and why nobody in this area wants war you would just have to look at the work being done by MAG and each one of these mines is potentially a life lost or a limb lost. The FCO supports the work of DFID and that of MAG'.
Minister Burt also met with MP Wael Abou Faour and discussed the latest developments in Lebanon and the region.
During his time in Lebanon, Mr. Burt will also have the opportunity to hear from economists and businessmen, former Chevening Scholars and fellows on how Lebanon and the UK can work together for a more prosperous and secure future.
Before his arrival Minister Burt said: 'This is my first visit to Lebanon. I look forward to meetings with Lebanese officials to relay the UK's strong commitment to an independent and secure Lebanon, support to UNSCR 1701 and the UK's commitment to the Middle East Peace Process and a two-state solution'.
This is Mr. Burt's first visit to Lebanon as Minister for the Middle East since assuming his post in May 2010.
Search the news archive
Published 13 July 2010