World news story
British military works with Vietnam Peacekeeping Centre
Personnel from the British Army's 2nd Medical Brigade have visited Vietnam to work with the Vietnam Ministry of National Defence Peacekeeping Centre.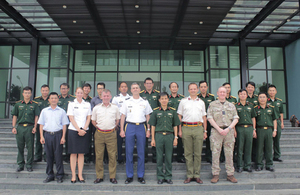 As part of the cooperation on peacekeeping issues between the UK and Vietnam, personnel from the British Army and the UK's Defence Attaché to Vietnam cooperated with members of the Vietnam Peacekeeping Centre on 8 - 9 August 2017 to help develop plans for a Vietnamese military peacekeeping Field Training Exercise (FTX) that will take place in Ho Chi Minh City in September 2017.
Along with US counterparts from the US Army Medical Services and US Embassy, Hanoi, the UK personnel and Vietnam People's Army (VPA) officers developed the training scenarios for the FTX. The Exercise will train VPA staffs in the type of scenarios they may face when they deploy on UN peacekeeping operations.
UK military personnel are currently deployed on the United Nations Mission in South Sudan (UNMISS), where they have established a UN Level 2 Hospital at Bentiu. In Spring 2018, it is envisaged that the VPA will take over the UNMISS Bentiu Level 2 Hospital role from the UK military, and the FTX in September will be a key element of the VPA's preparation for that role.
Published 16 August 2017