British military training team to train Ukrainian Army personnel
Military personnel from the British Military Advisory and Training Team will start training officers and senior non-commissioned officers from the 1st Mechanised Battalion of the 30th Mechanised Brigade in Novograd-Volynskiy from 4 October 2010.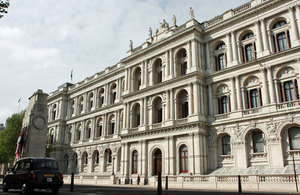 The BMATT is well known to the Ukrainian Armed Forces as it has been providing instructor training and professional development courses in Vyškov and Ukraine to personnel from all 3 Services for 10 years. Since the beginning of 2010 alone, 44 Ukrainian officers and Senior NCOs have completed courses in Vyškov.
The 30th Mechanised Brigade is next year due to deploy 125 peacekeepers to Kosovo to serve in the KFOR NATO operation, and the training from BMATT will form part of their pre-deployment training. In Novograd-Volynskiy, the BMATT personnel will deliver a Junior Commander development package based on patrolling and PSO skills to 30 officers and soldiers from the 1st Mechanised Battalion. The 4-man team will be headed by Warrant Officer Class 1 Russ Pritchard and the team includes British Army and Royal Marines as well as a warrant officer from the Czech Army.
WO1 Pritchard said 'I have taught a large number of Ukrainian officers and Senior NCOs on courses in Vyškov, and have found them keen to learn and professional. I am, therefore, very pleased that the BMATT is also able to provide training in Ukraine to prepare officers and soldiers about to deploy to Kosovo.'
Published 1 October 2010