World news story
British Military Training enhances Range Management skills in KSF
A British military team trains 30 Kosovo Security Force personnel in safe range supervision and management skills.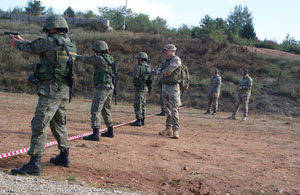 On 19 September 2013 at Ferizaj was the conclusion of the Range Management Course run by the British Military Advisory Training Team (BMATT) based in the Cz Republic. The course concluded with a March and Shoot competition between the students which involved running a short course wearing full equipment before immediately going on to the range and conducting a shooting test. Certificates were presented to the students at the end of the course by Min Agim Ceku Minister of the KSF, Lt Gen Kadri Kastrati Commander of the KSF, and Lt Col Will Smallwood, UK Advisor to the Commander of the KSF.
The aim of this course run by the 4-man BMATT team was to educate KSF personnel in the ability to safely plan, supervise and conduct range training. 30 students attended the course, a mix of 20 officers and SNCOs who were trained at a higher level to enable them to safely plan, supervise and conduct range training, and also 10 JNCOs who were trained in the coaching and range assistant role.
The KSF students were extremely enthusiastic and positive throughout the course and relished the opportunity to conduct some challenging range work including practising night shooting and also transition shoots which involved changing rapidly between a primary and secondary weapon. However, the real challenge came when they were then tested and evaluated on their own abilities to safely conduct range training.
This is the second time the UK has run this training package for the KSF and is an important step in helping to increase the number of trained instructors able to conduct this type of training throughout all the units of the KSF. This training is part of a wider package of assistance provided by the UK to the Kosovo Security Force to help them develop their skills and capabilities.
Published 26 September 2013