World news story
British High Commissioner visits Met Police at the Westgate Site
From:

Part of:

Published:

25 September 2013

Last updated:

27 September 2013, see all updates
This was published under the 2010 to 2015 Conservative and Liberal Democrat coalition government
Dr Christian Turner also discussed the situation with the Kenyan police team, the Director of the CID and other colleagues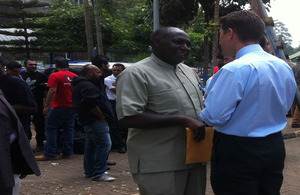 High Commissioner Dr. Christian Turner visited the Westgate site today to meet the Metropolitan Police team that has deployed from the UK to support the investigation.
He also discussed the situation with the Kenyan police team, the Director of the CID and other colleagues so as to get a better understanding of the operation. Following the visit he said:
The British Metropolitan Police deployed a team two nights ago to support my team at the High Commission here and to work alongside the Kenyan police to help them in the next phase of the operation.
"The current phase of this operation is to ensure the building is safe and secure, so that the really detailed work can begin, to secure the crime scene and gather the forensic evidence.
"We all want answers, we all want to know who is responsible for this brutal, cowardly and unconscionable act. But we now need to let the professionals do their job. This will take some time.
"We are in solidarity with Kenya at this difficult time. This an atrocity that threatens not only Kenya but all of us. We stand shoulder to shoulder with Kenyans.
"I again wish to give my condolences to the families and the loved ones of all those that have lost their lives or been injured."
Document information
Published: 25 September 2013
Updated: 27 September 2013
Captions to the image changed
the right image uploaded for the story
removed the first image
A new image was uploaded
First published.