World news story
British High Commissioner to Rwanda marks Human Rights Day
The promotion and protection of human rights is at the heart of how the UK sees its role in the world.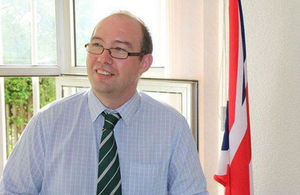 In 1950, the UN General Assembly agreed that the 10th December should be Human Rights Day. Since then it has been used as a moment to bring to the attention of the peoples of the world the Universal Declaration of Human Rights as the common standard of achievement for all peoples and all nations. This year - 2013 - also marks the 20th anniversary of the 1993 World Conference on Human Rights in Vienna. The Vienna Declaration and Programme of Action confirmed the universality of all human rights and led to historic advances in their promotion and protection.
The promotion and protection of human rights is at the heart of how the UK sees its role in the world. This forms a key part of our work in Rwanda. Rwanda has made impressive gains, particularly on economic development and poverty reduction, thereby significantly advancing many human rights. I applaud the ambition of the Government of Rwanda's Vision 2020 - to transform Rwanda into a thriving, middle income, regional trade and investment hub.
I also support mechanisms like the Universal Periodic Review of human rights which help us measure each country's progress on human rights. Both Rwanda and the UK have agreed to undergo the UPR process. I look forward to the publication of the mid-term implementation report for Rwanda which will show how far and how fast engagement has been in taking forward recommendations agreed in Geneva.
A key part of a vibrant human rights environment is the media. Rwanda has introduced new and progressive media laws in recent months. Implementation of a changed approach will help to open the space for scrutiny and dialogue. Now this step has been taken, it is important that further reforms are made to other laws - such as the genocide ideology law and state security law - which can have a negative impact on peoples' willingness to speak openly about issues which are of legitimate concern to them.
The independence and vibrancy of organisations like opposition political parties and NGOs are also an important part of how people can express their views openly and responsibly. These organisations still face a range of challenges in Rwanda. It is important that as Rwanda approaches the Presidential elections of 2017 we see further progress to open political space and to remove constraints they may face.
Twenty years ago leaders acknowledged that all states have a duty to promote and protect all human rights and fundamental freedoms. The principle of universality means that this applies equally to all; including students, those in detention, facing trial or advocating for greater political freedoms. The UK and Rwanda share a commitment to advancing the cause of human rights nationally and globally, and I look forward to continue to working with the government and people of Rwanda to take this process forward.
Published 11 December 2013