World news story
British High Commissioner congratulates Canadian recipients of British Honours
The 2014 Birthday Honours list was published in London over the weekend. It included 100 awards in recognition of exceptional service to Britain overseas.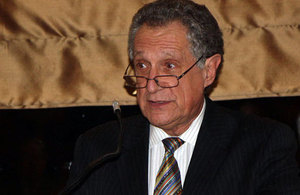 Among the awardees are two outstanding Canadians: Ronald Cohen, Bibliographer, and President and Co-founder of the Sir Winston Churchill Society of Ottawa; and Lyse Doucet, BBC Chief International Correspondent.
Mr Cohen was made a Member of the Order of the British Empire (MBE) for services to British history. Ms Doucet was made an Officer of the Order of the British Empire (OBE) for services to British broadcast journalism.
British High Commissioner Howard Drake said today: "I am absolutely delighted to see this great recognition of outstanding achievement by two distinguished Canadians. I send my warmest congratulations to them both. Their work is a source of pride for both Canada and the UK".
Mr. Cohen lives in Ottawa and is well known for his extraordinary personal collection of Sir Winston Churchill's writings, the biggest of its kind in the world, and for his authorship of the definitive Bibliography of the Writings of Sir Winston Churchill.
Mr Cohen said: "It is truly an honour to receive this award. I had the good fortune to live in London during the last six months of Sir Winston Churchill's life. It was the outpouring of emotion and respect for him by Britain and indeed the world that inspired me to spend the last half century collecting, studying, writing and speaking about the "greatest Briton". That I should merit such recognition by Her Majesty for this passion is both humbling and gratifying."
Published 17 June 2014