News story
British High Commissioner assesses drought in Namibia
The Namibian President declared a national emergency in response to the worsening drought situation. The UK assesses the situation.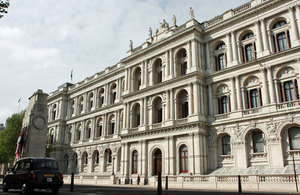 Namibian President Hifikepunye Pohamba declared a national emergency on 17 May in response to the country's failed rains and worsening drought situation. An estimated 330,000 people have now been classified as food insecure – 14 % of Namibia's total population of 2.3m, with an additional 447,577 classified as moderately food insecure. The drought hit especially hard in Namibia's north west Kunene Region, which had suffered two years of lack of rain. Some areas have already seen increased admissions for cases of paediatric malnutrition and a total of 46 malnutrition-related deaths had been recorded by July this year.
British High Commissioner to Namibia, Mrs. Marianne Young, assesses the situation and shares her observations with the public in her blog. Read her blog titled "Visiting drought stricken areas in northern Namibia" here.
Published 27 August 2013