Press release
British High Commission marks International Women's Day, asking: "Who has inspired you?"
On 7 March the British High Commission marked the 102nd anniversary of International Women's Day with a tea party at the High Commissioner's Residence.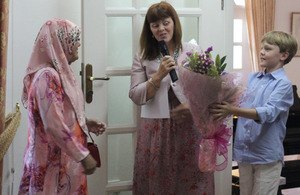 Guest of Honour at the event was Deputy Minister of Culture, Youth and Sports, Datin Paduka Hjh Adina Othman. Also present were the presidents of women's and civil society organisations, as well as the spouses of heads of mission.
International Women's Day, celebrated annually on 8 March for the last 102 years, is a day to focus on the achievements of women all round the world: to look back on past accomplishments; and forward, at the opportunities which await future generations of women. It is also a day to rededicate ourselves to the cause of equal opportunities for women; and to tackling discrimination and violence against women in all its forms.
Last year, the British High Commission's theme was: "Connecting Girls: Inspiring Futures", drawing on a theme chosen by the Commonwealth. This year the High Commission encouraged guests to bring along someone who inspired them, in any aspect of their lives. The same question – "Who has inspired you?" – was the basis for a competition on the High Commission's Facebook page, the winners of which were also invited to the International Women's Day celebration. All guests were invited to introduce the person who had inspired them, and explain how.
Julia Fenn, wife of the British High Commissioner, said:
On International Women's Day the British Government is gathering support for its initiative to combat sexual violence in conflict zones around the world. On the home front, we are focussing on Violence Against Women and Girls in the UK; and on Women and Economic Growth: to promote equal pay for equal work, and equal opportunities for all within the workplace.
As a non-diplomat, my approach is a little less direct. It is hard to change the world over tea and egg sandwiches, strongly though I feel about the subjects I have just mentioned. But International Women's Day is a moment for stopping to think about such things: a day to reflect how far women have travelled but also to remind ourselves that we are not there yet. We have much to celebrate, but we also have to guard against complacency, especially in places like Britain and Brunei where the going is comparatively good.
One of this year's themes for International Women's Day is 'A promise is a promise: Time for action to end violence against women'. Promoting gender equality and women's empowerment worldwide remains a priority for the UK. Foreign Secretary, William Hague, launched the Preventing Sexual Violence Initiative (PSVI), which aims to end the culture of impunity which often prevails in times of conflict - by increasing the number of perpetrators brought to justice; by strengthening international efforts and co-ordination to prevent and respond to sexual violence; and by helping states build national capacity to act on these issues.
Published 8 March 2013