World news story
British Government contributes to biodiversity conservation in Guatemalan Caribbean
The Foundation for Ecological Development and Conservation (FUNDAECO), with support from the UK government through the Darwin Initiative launched the project "Biodiversity Conservation and Ecological Connectivity in Caribbean Guatemala"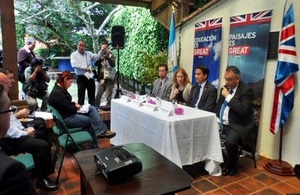 The project will have a duration of three years and will receive £269,445 (more than Q3 million) in funds for the protection of 5,000 hectares of community forests and to support nearly 500 families in the surrounding areas of Izabal that will engage in sustainable endeavours such as the production of black pepper, non-timber forest products and ecotourism, amongst others.
The aim the project is to reduce fragmentation and deforestation of forests in one of the priority regions for conservation nationwide. With the support of partners such as the National Council of Protected Areas (CONAP) and the National Forest Institute (INAB), the project seeks to achieve the following results:
Support for the declaration of two new protected areas and participatory management in partnership with local communities
The launch of a Plan of Conservation and Sustainable Management for Regional System of Protected Areas within the Guatemalan Caribbean
The protection of 5,000 hectares of community forests through forestry incentives
The establishment of a fund to support between 5 and 7 productive projects with the communities in the protected areas of the Caribbean
Organise community consultations for the formulation of forest carbon projects
To mark the event, the British Ambassador to Guatemala, Sarah Dickson, said:
I would like to congratulate FUNDAECO for being awarded a Darwin Initiative grant. One of the UK's global priorities is to reduce the impact of climate change. By using adequate legislation to protect forests, we're reducing the probabilities of facing climate catastrophes in the future and we're helping the communities to achieve sustainable development.
The Caribbean is one of the most diverse regions of the country in Guatemala, about 50% of the country's species, including amphibians, reptiles and birds are found in this area, which is also a centre of endemism for plants, amphibians and beetles. The region is also the route of more than 120 migratory bird species, 46 of which depend on the forest as their habitat.
FUNDAECO, appreciates the support of the British Government and the invaluable support of all institutions involved in the project, as well as media and the environmental community in the dissemination of this effort, and more importantly, to support the conservation of the Caribbean region of Guatemala.
Published 3 July 2013